Deviled Eggs are a classic and much-loved appetizer that's perfect for parties, picnics, and gatherings of all kinds. In this post, we'll share some tips for making the perfect Deviled Eggs, a fantastic recipe for you to try, and the nutritional information, prep time, and cooking time for the dish. Let's dive into the delightful world of Deviled Eggs!
Tips for Making Deviled Eggs
Cook your eggs properly: For perfect hard-boiled eggs, place them in a pot of cold water, bring to a rolling boil, then turn off the heat and let them sit for 10-12 minutes before cooling in an ice bath. This will help prevent overcooked or undercooked yolks.
Peel the eggs carefully: To avoid tearing the egg whites, gently tap the eggs on the countertop to crack the shell, then roll them lightly between your hands to loosen the shell. Peel the eggs under cool running water for the best results.
Use a piping bag for the filling: To create a professional and attractive appearance, pipe the yolk filling into the egg whites using a piping bag fitted with a decorative tip. If you don't have a piping bag, a zip-top bag with a corner snipped off will work in a pinch.
Customize your Deviled Eggs: Get creative with your Deviled Eggs by adding your favorite seasonings to the yolk mixture, such as Dijon mustard, hot sauce, or horseradish. You can also garnish your Deviled Eggs with a variety of toppings, like paprika, chives, crumbled bacon, or pickled jalapeños.
How To Make Deviled Eggs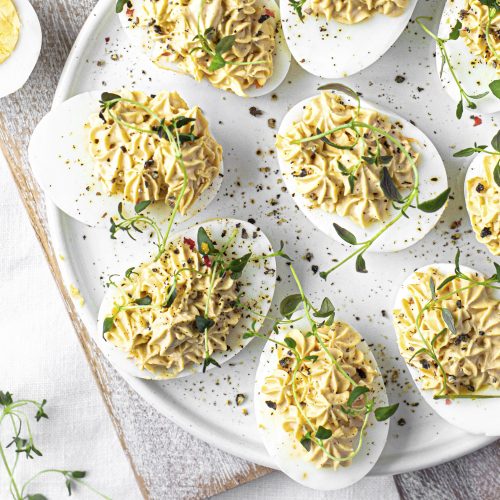 Deviled Eggs: A Timeless and Delectable Appetizer for Any Occasion
Deviled Eggs are a classic and much-loved appetizer that's perfect for parties, picnics, and gatherings of all kinds.
Ingredients
12

large eggs

1/2

cup

mayonnaise

2

tsp

Dijon mustard

1

tsp

white wine vinegar

Salt and pepper, to taste

Optional: paprika, for garnish

Optional: chopped fresh chives, for garnish
Instructions
Place the eggs in a large saucepan and cover them with water. Bring the water to a boil, then cover the saucepan and remove it from the heat. Let the eggs stand for 12 minutes.

Drain the eggs and place them in a bowl of ice water to cool. Once cooled, peel the eggs and slice them in half lengthwise.

Carefully remove the egg yolks and place them in a medium bowl. Set the egg whites aside on a serving platter.

Mash the egg yolks with a fork, and then mix in the mayonnaise, Dijon mustard, white wine vinegar, salt, and pepper until smooth and creamy.

Use a spoon or a piping bag fitted with a star tip to fill the egg white halves with the yolk mixture.

Optionally, sprinkle the filled eggs with paprika and chopped chives for garnish. Serve chilled.
Nutrition
Calories:
65
kcal
Carbohydrates:
1
g
Protein:
3
g
Fat:
5
g
Saturated Fat:
1
g
Polyunsaturated Fat:
1
g
Monounsaturated Fat:
2
g
Cholesterol:
95
mg
Sodium:
90
mg
Sugar:
1
g
Deviled Eggs are a timeless and scrumptious appetizer that's sure to delight your guests at any gathering. By following our tips and using our delicious recipe, you can create perfect Deviled Eggs that will have everyone asking for seconds. Don't be afraid to experiment with different seasonings and toppings to make your Deviled Eggs uniquely yours. So, go ahead and whip up a batch of these delectable bites – they're sure to be a hit!