Are you in search of a simple yet nutritious meal that can be whipped up in no time? Look no further! Our Egg Tuna Salad recipe is a protein-rich, healthy meal that's incredibly satisfying. Perfect for lunch or dinner, it's a great way to utilize pantry staples and leftover hard-boiled eggs. Dive into the recipe below to discover how to make this delicious, healthy, and easy dish.
Tips for a Perfect Egg Tuna Salad:
Use good-quality canned tuna for the best taste. Tuna packed in water is a healthier choice and lets the natural flavors of the tuna shine through.
Make sure to drain the tuna well to prevent the salad from becoming too watery.
You can prepare hard-boiled eggs in advance to save on prep time. They stay good in the fridge for up to one week.
Adjust the amount of mayonnaise and mustard according to your taste. Some like their tuna salad creamy, while others prefer it drier.
If you want to add a crunch to your salad, consider adding finely chopped pickles, bell peppers, or even a handful of chopped nuts or seeds.
The salad can be stored in an airtight container in the refrigerator for up to 3 days.
How To Make Egg Tuna Salad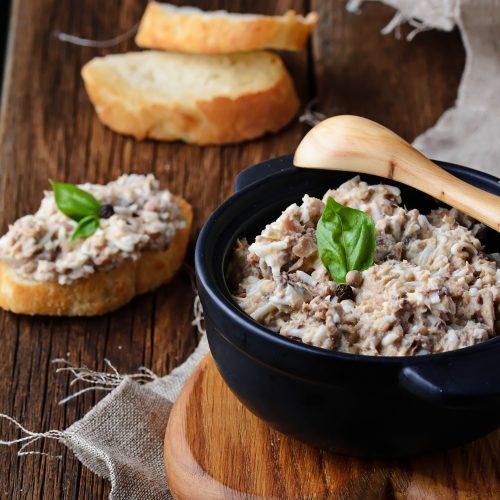 Egg Tuna Salad: A Protein-Packed, Refreshing Meal
Are you in search of a simple yet nutritious meal that can be whipped up in no time? Look no further!
Ingredients
2

can

tuna in water, drained

4

large hard-boiled eggs, peeled and chopped

1/2

cup

celery, finely chopped

1/4

cup

red onion, finely chopped

1/4

cup

mayonnaise

1

tbsp

Dijon mustard

1

tbsp

fresh lemon juice

Salt and pepper to taste

Optional garnish: Fresh dill or parsley
Instructions
In a large bowl, combine the drained tuna, chopped hard-boiled eggs, celery, and red onion.

In a small separate bowl, whisk together the mayonnaise, Dijon mustard, and fresh lemon juice. Add salt and pepper to taste.

Pour the dressing over the tuna and egg mixture, stirring gently to combine until everything is well-coated.

Adjust the seasoning as needed, adding more salt, pepper, or lemon juice to taste.

Serve the egg tuna salad on a bed of fresh greens, on whole-grain bread for a sandwich, or with crackers for a lighter snack. Garnish with fresh dill or parsley, if desired.
Nutrition
Serving:
1
g
Calories:
210
kcal
Carbohydrates:
2
g
Protein:
22
g
Fat:
12
g
Sodium:
400
mg
Dive into the refreshing flavors of this Egg Tuna Salad! This dish brings a healthy, protein-packed option to your table and is sure to leave you satisfied. Enjoy crafting this simple, nutritious meal!