Frittatas are a fantastic Italian dish that's perfect for breakfast, brunch, or even a light dinner. The result is a flavorful, fluffy, and satisfying meal that's easy to customize to your tastes and preferences. In this post, we'll share a delightful Frittata recipe, along with the nutritional information, prep time, and cooking time for the dish.
Tips for Making a Frittata
Pre-cook your ingredients: To ensure even cooking, pre-cook any vegetables or meats that release moisture or take longer to cook than the eggs.
Use a good-quality oven-safe skillet: A well-seasoned cast iron or non-stick skillet will work best for making a frittata.
Don't overbeat the eggs: Gently whisk the eggs until just combined to keep the frittata light and tender.
Customize your frittata: Feel free to get creative with your frittata by adding your favorite vegetables, cheeses, and proteins.
How To Make Frittata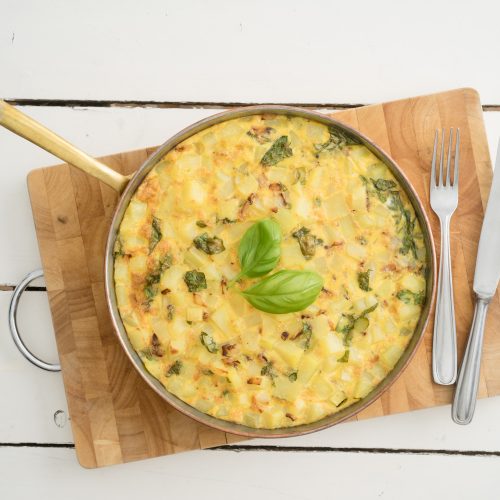 Frittata: A Delicious and Versatile Italian Egg Dish
Frittatas are a fantastic Italian dish that's perfect for breakfast, brunch, or even a light dinner.
Ingredients
8

large eggs

1/4

cup

whole milk or cream

1/2

tsp

salt

1/4

tsp

black pepper

2

tbsp

olive oil

1

small onion, finely chopped

1

bell pepper, diced

1

cup

cherry tomatoes, halved

2

cup

fresh spinach, roughly chopped

1

cup

shredded cheese (such as cheddar, mozzarella, or Swiss)

Optional: 1/2 cup cooked and crumbled bacon or diced ham
Instructions
Preheat your oven to 350°F (180°C).

In a large mixing bowl, whisk together the eggs, milk or cream, salt, and black pepper. Set aside.

Heat the olive oil in a 10-inch oven-safe skillet (preferably cast iron or non-stick) over medium heat. Add the onion and cook until softened, about 3-4 minutes.

Add the bell pepper and cook for another 3-4 minutes until the vegetables are tender.

Stir in the cherry tomatoes and spinach, cooking for an additional 2-3 minutes until the spinach has wilted.

If using bacon or ham, add it to the skillet and mix well to evenly distribute the ingredients.

Pour the egg mixture into the skillet, ensuring that the vegetables and meats are evenly covered. Cook for 2-3 minutes without stirring, until the edges of the frittata begin to set.

Sprinkle the shredded cheese evenly over the top of the frittata.

Transfer the skillet to the preheated oven and bake for 15-20 minutes, or until the frittata is set in the center and the cheese is melted and golden.

Remove the skillet from the oven and let the frittata cool for a few minutes. Carefully slide a spatula around the edges of the frittata to loosen it from the skillet.

Cut the frittata into wedges and serve warm or at room temperature.
Nutrition
Calories:
250
kcal
Carbohydrates:
6
g
Protein:
20
g
Fat:
16
g
Saturated Fat:
6
g
Polyunsaturated Fat:
2
g
Monounsaturated Fat:
7
g
Cholesterol:
220
mg
Sodium:
400
mg
Fiber:
1
g
Sugar:
2
g
The frittata is a versatile and delicious egg dish that's perfect for any meal of the day. With endless possibilities for customization and a simple preparation process, it's no wonder this Italian classic has become a beloved favorite worldwide. By following our tips and using our delightful recipe, you can create a mouthwatering frittata that's sure to impress. So why wait? Whip up a tasty frittata today and enjoy a little slice of Italy in your own kitchen!