Egg and Potato Hash is a comforting and satisfying dish that's perfect for any meal of the day. This versatile recipe is not only packed with flavor but also easy to make, requiring just a few simple ingredients. Whether you're serving it for breakfast, lunch, or dinner, this delightful hash is sure to impress family and friends alike. In this post, we'll share how to make a delicious Egg and Potato Hash, along with detailed nutrition information and prep and cooking times.
Tips To Make Egg and Potato Hash
Choose the right potatoes: To achieve the ideal texture for your Egg and Potato Hash, use a waxy potato variety, such as Yukon Gold or red potatoes. These types of potatoes hold their shape well and won't become mushy when cooked.
Use a large, non-stick skillet: A large skillet will provide enough surface area to cook the potatoes and other ingredients evenly without overcrowding. Using a non-stick skillet will also make it easier to flip and stir the ingredients without them sticking to the pan.
Cook over medium heat: Cooking the hash over medium heat allows the potatoes to become tender and golden brown without burning. Be patient and give the potatoes enough time to develop a nice crust.
Season well: Don't be shy with your seasoning. Use salt, pepper, and other spices to add flavor to the hash. Experiment with different herbs and spices, such as smoked paprika, cumin, or red pepper flakes, to create your own unique flavor profile.
Cook eggs to your preference: Whether you prefer your eggs sunny-side-up, over-easy, or even scrambled, cook them to your desired level of doneness. You can also cook the eggs separately and serve them on top of the hash.
How To Make Egg and Potato Hash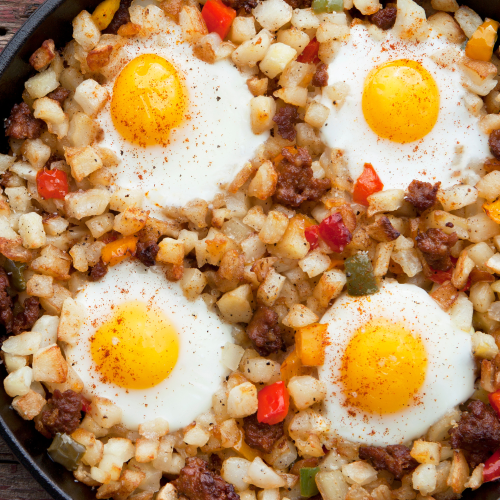 Hearty and Delicious Egg and Potato Hash
Egg and Potato Hash is a comforting and satisfying dish that's perfect for any meal of the day.
Ingredients
4

large eggs

2

medium russet potatoes, peeled and diced

1

medium onion, diced

1/2

cup

diced bell pepper

1/2

cup

cooked and crumbled bacon or sausage (optional)

1/4

cup

chopped fresh parsley

Salt and pepper, to taste

Olive oil, for frying
Instructions
Heat a generous amount of olive oil in a large skillet over medium heat. Add the diced potatoes and cook, stirring occasionally, until golden brown and tender, about 10-12 minutes.

Add the diced onion and bell pepper to the skillet and cook until softened, about 3-4 minutes.

Stir in the cooked bacon or sausage, if using, and season with salt and pepper.

Make 4 wells in the potato mixture and crack an egg into each well. Season the eggs with salt and pepper.

Cover the skillet and cook for 5-7 minutes, or until the egg whites are set but the yolks are still runny.

Remove from heat, sprinkle with chopped parsley, and serve immediately.
Nutrition
Serving:
1
g
Calories:
350
kcal
Carbohydrates:
30
g
Protein:
14
g
Fat:
20
g
Saturated Fat:
5
g
Cholesterol:
190
mg
Sodium:
450
mg
Potassium:
800
mg
Fiber:
4
g
Sugar:
3
g
Egg and Potato Hash is a delicious and hearty dish that can be enjoyed any time of the day. With its simple ingredients and customizable nature, it's perfect for both casual family meals and more elaborate gatherings. The detailed nutrition information and prep and cooking times provided in this blog post will help you create a scrumptious and satisfying Egg and Potato Hash that's sure to become a favorite in your household. Give it a try and enjoy the flavors and textures of this delightful dish!