Start your day with a delicious and filling Egg and Potato Breakfast Skillet. This simple yet flavorful dish combines tender potatoes, savory vegetables, and perfectly cooked eggs, all in one skillet. Topped with melted cheese and your choice of tasty extras, this breakfast skillet will quickly become a go-to morning favorite.
Tips for Making the Perfect Egg and Potato Breakfast Skillet
Use a large, non-stick skillet or well-seasoned cast-iron skillet to ensure even cooking and prevent sticking.
Customize your breakfast skillet by adding your favorite vegetables, such as bell peppers, mushrooms, or spinach.
For a meatier option, you can add crumbled breakfast sausage or diced ham to the skillet along with the potatoes.
To save time in the morning, you can dice the potatoes and chop the vegetables the night before and store them in the refrigerator.
If you prefer a spicy kick, add a dash of hot sauce or a pinch of red pepper flakes to the skillet while cooking.
How To Make Egg and Potato Breakfast Skillet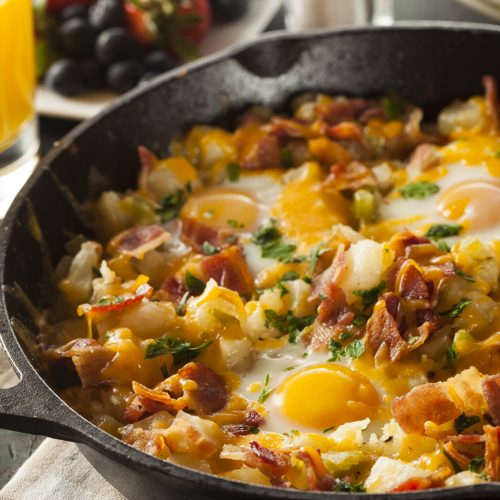 Hearty Egg and Potato Breakfast Skillet for a Satisfying Morning Meal
Start your day with a delicious and filling Egg and Potato Breakfast Skillet.
Ingredients
4

medium potatoes, diced

1

onion, chopped

1

bell pepper, chopped

2

cloves garlic, minced

4

large eggs

1

cup

shredded cheese (cheddar or mozzarella)

2

tbsp

olive oil

Salt and pepper, to taste

Optional toppings: salsa, sour cream, avocado, and/or hot sauce
Instructions
Heat olive oil in a large skillet over medium heat. Add diced potatoes and cook for 10 minutes, stirring occasionally. Add onion, bell pepper, and garlic to the skillet. Cook for an additional 5-7 minutes until vegetables are softened and potatoes are cooked through.

Create 4 wells in the potato mixture and crack an egg into each well. Season with salt and pepper.

Cover the skillet and cook for 5-8 minutes, or until eggs reach desired level of doneness.

Sprinkle shredded cheese over the top, cover, and cook for an additional 1-2 minutes until cheese is melted.

Serve immediately with your choice of toppings.
Nutrition
Serving:
1
g
Calories:
480
kcal
Carbohydrates:
45
g
Protein:
22
g
Fat:
25
g
Saturated Fat:
8
g
Polyunsaturated Fat:
3
g
Monounsaturated Fat:
12
g
Cholesterol:
220
mg
Sodium:
680
mg
Potassium:
1200
mg
Fiber:
6
g
Sugar:
4
g
Calcium:
280
mg
Iron:
3
mg
The Egg and Potato Breakfast Skillet is a delectable and satisfying way to start your day. With our easy-to-follow recipe and helpful tips, you can create a nutritious and flavorful breakfast that's perfect for busy mornings or leisurely weekend brunches. Enjoy this hearty breakfast skillet and start your day on a high note!