Indulge in the delightful world of homemade Egg Rolls! These crispy and savory delights are a favorite in Chinese cuisine, often enjoyed as appetizers or even as a main course. Filled with a medley of vegetables, protein, and traditional Asian flavors, these Egg Rolls are sure to impress your taste buds. Follow this easy recipe to create restaurant-quality Egg Rolls right in your own kitchen.
Tips to Make Perfect Egg Rolls
Make sure the filling is completely cooled before assembling the egg rolls to prevent the wrappers from becoming soggy.
Use a high-quality vegetable oil with a high smoke point for frying to achieve crispy egg rolls.
Seal the edges of the egg rolls tightly with the beaten egg to prevent them from unraveling during frying.
Be careful when frying the egg rolls, as the oil can get very hot. Use a thermometer to monitor the oil temperature.
Serve the egg rolls immediately for the best crispy texture.
How To Make Egg Rolls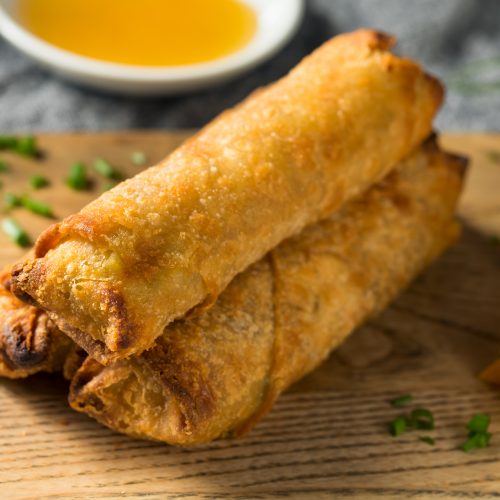 Homemade Egg Rolls: Crispy and Flavorful Delights
Indulge in the delightful world of homemade Egg Rolls!
Ingredients
For the filling
1

cup

shredded cabbage

1/2

cup

julienned carrots

1/2

cup

chopped green onions

1/2

cup

bean sprouts

1/2

cup

cooked and diced shrimp or cooked ground pork (optional)

2

tbsp

soy sauce

1

tbsp

oyster sauce

1

tsp

sesame oil

1/2

tsp

grated ginger

1/2

tsp

minced garlic

Salt and pepper to taste

1

tbsp

vegetable oil
For Assembling
Egg roll wrappers

1

beaten egg (for sealing)
Instructions
In a wok or large skillet, heat 1 tablespoon of vegetable oil over medium-high heat.

Add the grated ginger and minced garlic, and sauté for about 30 seconds until fragrant.

Add the shredded cabbage, julienned carrots, chopped green onions, and bean sprouts. Stir-fry for 2-3 minutes until the vegetables are slightly softened.

If using, add the cooked and diced shrimp or ground pork to the vegetable mixture.

In a small bowl, mix together the soy sauce, oyster sauce, and sesame oil. Pour the sauce over the vegetable and protein mixture.

Stir-fry for another 2-3 minutes until everything is well combined and cooked through. Season with salt and pepper to taste. Remove from heat and let the filling cool.

Take an egg roll wrapper and place it in a diamond shape in front of you. Spoon a generous amount of the filling onto the center of the wrapper.

Fold the bottom corner of the wrapper over the filling. Roll it up slightly, then fold in the side corners and continue rolling tightly.

Dip your finger in the beaten egg and use it to seal the top corner of the wrapper, forming a seal.

Repeat the process with the remaining egg roll wrappers and filling.

In a deep pan or wok, heat vegetable oil for frying to around 350°F (175°C).

Carefully place the egg rolls into the hot oil, a few at a time, and fry until golden brown and crispy. This should take about 3-4 minutes.

Remove the egg rolls with a slotted spoon and drain them on a paper towel-lined plate.

Serve the Egg Rolls hot with your favorite dipping sauce, such as sweet and sour sauce or soy sauce.
Nutrition
Calories:
180
kcal
Carbohydrates:
20
g
Protein:
7
g
Fat:
10
g
Saturated Fat:
2
g
Cholesterol:
30
mg
Sodium:
300
mg
Fiber:
2
g
Sugar:
2
g
Elevate your culinary skills with these homemade Egg Rolls that boast a satisfying crunch and a burst of flavors in every bite. Whether you're serving them as an appetizer, snack, or even as a main dish, these Egg Rolls are sure to be a hit at any gathering. With a little patience and this easy-to-follow recipe, you can enjoy the magic of restaurant-style Egg Rolls from the comfort of your own kitchen.