Homemade marshmallows are a delightful treat that takes this classic confection to a whole new level. Making marshmallows from scratch allows you to control the flavor, texture, and even the shape of these fluffy wonders. Whether you want to enjoy them on their own, add them to hot cocoa, or use them in s'mores, crafting your marshmallows is a fun and rewarding experience. In this guide, we'll show you how to whip up a batch of these pillowy delights.
Tips to Make Perfect Marshmallows:
Use a candy thermometer to ensure you reach the soft-ball stage when cooking the sugar syrup.
Be patient when whipping the marshmallow mixture; it will take some time to achieve the right texture.
Customize your marshmallows by adding flavored extracts, food coloring, or even rolling them in different coatings like shredded coconut or crushed graham crackers.
How To Make Marshmallows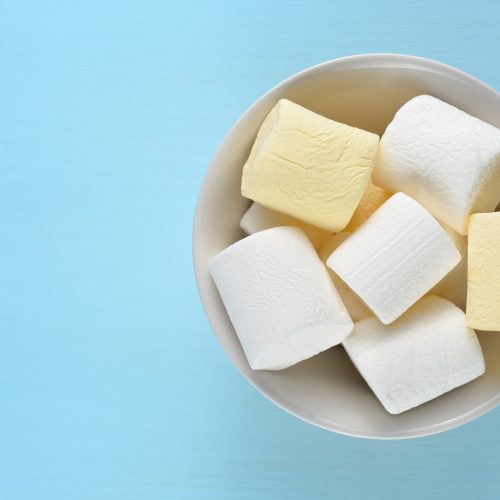 Homemade Marshmallows: A Sweet and Fluffy Delight
Homemade marshmallows are a delightful treat that takes this classic confection to a whole new level.
Ingredients
3

packets (21 grams) unflavored gelatin

1/2

cup

cold water

2

cup

granulated sugar

1/2

cup

light corn syrup

1/4

cup

water

1/4

tsp

salt

2

tsp

pure vanilla extract

1/2

cup

powdered sugar (for dusting)

1/2

cup

cornstarch (for dusting)
Instructions
Grease a 9×9-inch (23×23 cm) baking pan and dust it with a mixture of powdered sugar and cornstarch.

In a large mixing bowl, combine the gelatin with 1/2 cup of cold water. Let it sit for about 10 minutes to soften.

In a saucepan, combine the granulated sugar, corn syrup, 1/4 cup of water, and salt. Cook over medium heat, stirring until the sugar dissolves. Insert a candy thermometer and heat the mixture to 240°F (115°C). This is the soft-ball stage.

Carefully pour the hot sugar syrup into the softened gelatin, mixing continuously. Be cautious as the mixture will be extremely hot.

Using a hand mixer or a stand mixer, beat the mixture on high speed for about 10-15 minutes, or until it becomes thick and glossy. Add the vanilla extract during the last minute of mixing.

Quickly transfer the marshmallow mixture into your prepared baking pan, spreading it evenly. You can use a spatula dusted with powdered sugar and cornstarch to help with this step.

Let the marshmallows set at room temperature for at least 4 hours, or overnight for best results.

Once the marshmallows have set, dust a cutting board with the powdered sugar and cornstarch mixture. Carefully remove the marshmallow slab from the pan and place it on the board.

Use a sharp knife or cookie cutters to cut the marshmallows into your desired shapes and sizes. Make sure to coat the knife or cutters with the sugar-cornstarch mixture to prevent sticking.

Toss the cut marshmallows in the sugar-cornstarch mixture to coat all sides.

Your homemade marshmallows are now ready to enjoy! Store them in an airtight container at room temperature.
Nutrition
Serving:
1
g
Calories:
38
kcal
Carbohydrates:
9.5
g
Protein:
0.4
g
Fat:
0.1
g
Sugar:
8
g
Making your own marshmallows is not only a fun kitchen project but also an opportunity to savor the superior taste and texture of homemade treats. With a handful of ingredients and a bit of patience, you can create marshmallows that elevate your desserts and warm your heart.
So, gather your ingredients, whip up some magic, and enjoy the delightful sweetness of homemade marshmallows.