Nothing beats the creamy, indulgent goodness of homemade vanilla ice cream. Making ice cream from scratch is easier than you might think, and the result is a rich, velvety treat that's perfect on its own or as a base for countless toppings and desserts. In this recipe, we'll show you how to make classic homemade vanilla ice cream.
Tips for Perfect Homemade Vanilla Ice Cream:
Use high-quality vanilla extract for the best flavor.
Ensure the custard mixture doesn't boil during cooking to prevent curdling.
Churn the ice cream until it reaches a soft-serve consistency, then freeze for a firmer texture.
Experiment with mix-ins like chocolate chips, nuts, or fruit during the last few minutes of churning.
Enjoy your homemade vanilla ice cream in cones, bowls, or as part of sundaes with your favorite toppings!
How To Make Vanilla Ice Cream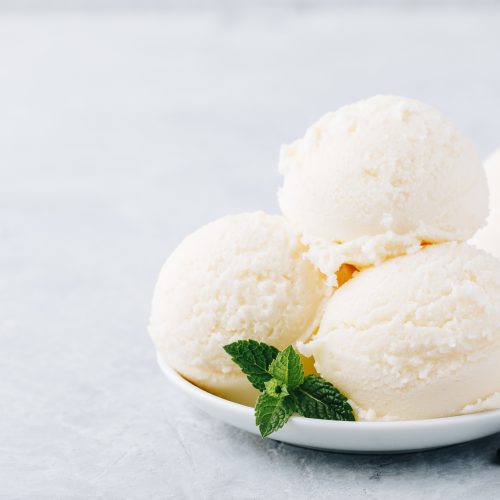 Homemade Vanilla Ice Cream Recipe
Nothing beats the creamy, indulgent goodness of homemade vanilla ice cream.
Ingredients
2

cup

heavy cream

1

cup

whole milk

3/4

cup

granulated sugar

1

tbsp

pure vanilla extract

6

large egg yolks
Instructions
In a medium saucepan, combine the heavy cream and whole milk. Heat the mixture over medium heat until it begins to steam, but don't let it boil. Remove it from the heat.

In a separate bowl, whisk together the granulated sugar and egg yolks until the mixture becomes pale and slightly thickened.

Gradually pour a small amount of the hot cream-milk mixture into the egg-sugar mixture, whisking constantly. This tempers the eggs and prevents them from scrambling. Continue to slowly add the hot mixture while whisking.

Pour the combined mixture back into the saucepan and return it to the stovetop over low heat. Stir constantly until the custard thickens and coats the back of a spoon. This will take about 5-7 minutes. Do not let it boil.

Remove the custard from the heat and stir in the pure vanilla extract. Allow it to cool to room temperature.

Cover the custard and refrigerate it for at least 2 hours, or until it's thoroughly chilled. This step is crucial for a creamy texture.

Once the custard is chilled, pour it into your ice cream maker and churn according to the manufacturer's instructions. Typically, it takes about 20-25 minutes.

Transfer the churned ice cream to an airtight container and freeze for an additional 2-4 hours or until firm.
Nutrition
Serving:
1
g
Calories:
220
kcal
Carbohydrates:
13
g
Protein:
3
g
Fat:
18
g
Homemade vanilla ice cream is a delightful treat that's perfect for hot summer days or as a comforting dessert year-round. Customize it to your liking and savor every creamy spoonful!