One of the greatest snacks that could have ever been invented is deviled eggs, and if we take it a step further by thinking of a keto deviled quail egg recipe, well, then what we have is a culinary masterpiece!
However, most recipes, though delicious, are unfortunately far from healthy. Usually drowning in mayonnaise, these party favorites can wreak havoc on your cholesterol levels and sabotage one's weight loss since they are too high in calories.
Fortunately, this is where the keto diet approach comes into play. In short, the ketogenic diet is a low-carb, high-fat diet. This combination offers many health benefits. There are studies out there that show it works. According to these studies, this diet promotes weight loss and improves your health. Furthermore, ketogenic diets may even have benefits against various diseases such as diabetes, cancer, epilepsy, and Alzheimer's disease.
Of course, eating more fat may sound counter-intuitive. However, it's important to note that it is not fat that makes us fat. Also, fat is essential for our cells and our brain. Not to mention that there are different fats – healthy and unhealthy. Guess which type the keto diet promotes?
So, to appease our body-perfect-driven society, I propose a reinterpretation of this delicious classic that tastes just as exquisite as the original version.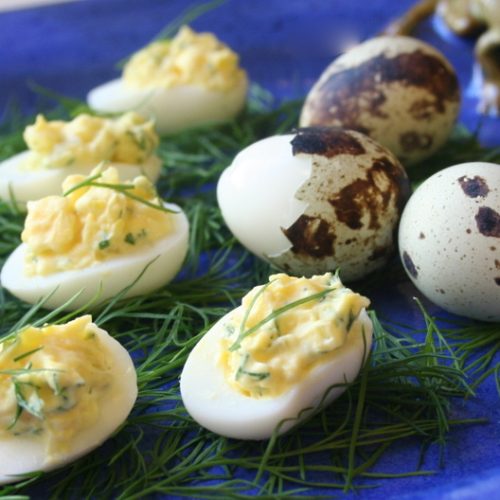 Keto-Friendly Deviled Quail Eggs
This keto-friendly recipe with quail eggs that I'm about to share with you is not only healthy but also considerably lighter in calories than the classic.
Ingredients
20

Quail Eggs

100

g

Greek yogurt

or a lighter protein-rich yogurt

Salt

Pepper

½ 

tsp paprika powder
Instructions
Fill a saucepan with water and bring it to a boil. Immerse the quail eggs and boil them for 4 minutes. Then, immediately cool them in cold water and peel them. At first, it might seem a little difficult because of their small size but it will become easier as you progress.

Cut the eggs in halves and remove the yolks with a teaspoon or by simply squeezing them. Put them in a bowl and add the Greek yogurt, salt, and pepper and mix everything until you obtain a smooth paste.

Put the paste in an icing ornamenting syringe and fill in the quail egg whites. If you don't have one of those, just use the same teaspoon you used to remove the yolks. I used the syringe to make the keto deviled quail eggs look prettier.

When you're done filling the whites with the deviled egg paste, finish off by garnishing with paprika. I suggest cooling them in the fridge for half an hour before serving. Enjoy!
Nutrition
Calories:
86.55
kcal
Carbohydrates:
1.22
g
Protein:
8.46
g
Fat:
5.12
g
Saturated Fat:
1.64
g
Polyunsaturated Fat:
0.62
g
Monounsaturated Fat:
1.96
g
Trans Fat:
0.01
g
Cholesterol:
381.05
mg
Sodium:
72.62
mg
Potassium:
100.35
mg
Fiber:
0.09
g
Sugar:
1.01
g
Vitamin A:
368.49
IU
Vitamin C:
0.01
mg
Calcium:
56.87
mg
Iron:
1.71
mg
As you can see, this tasty keto deviled eggs recipe is easy to prepare and you'll be done with it in no time. It's not just fast and delicious foods that are highly popular nowadays; they have to be healthy and delicious as well! We rarely have a lot of time on our hands, and when we do, spending it cooking is not an appealing idea (for some of us)!
At first, it might seem difficult to peel these tiny eggs but as you'll prepare deviled quail eggs more often, you'll get better at it. If you really want to do it fast and easy, prepare a bowl with ice and put the quail eggs in there after you boil them. Let them cool down and then peel them. The shells will almost come off on their own. Then, eat them as a snack or serve them with some Edam cheese and cherry tomatoes for a keto dinner. You can also pair them with a salad.
If you're not sure how many calories to consume every day in order to lose weight, go to the bottom of this page and use the calorie calculator. As long as you maintain a caloric deficit, you will lose weight and the ketogenic diet is a great way to achieve your desired weight. Just don't overdo it. Too much fat is not healthy. Moderation is key.