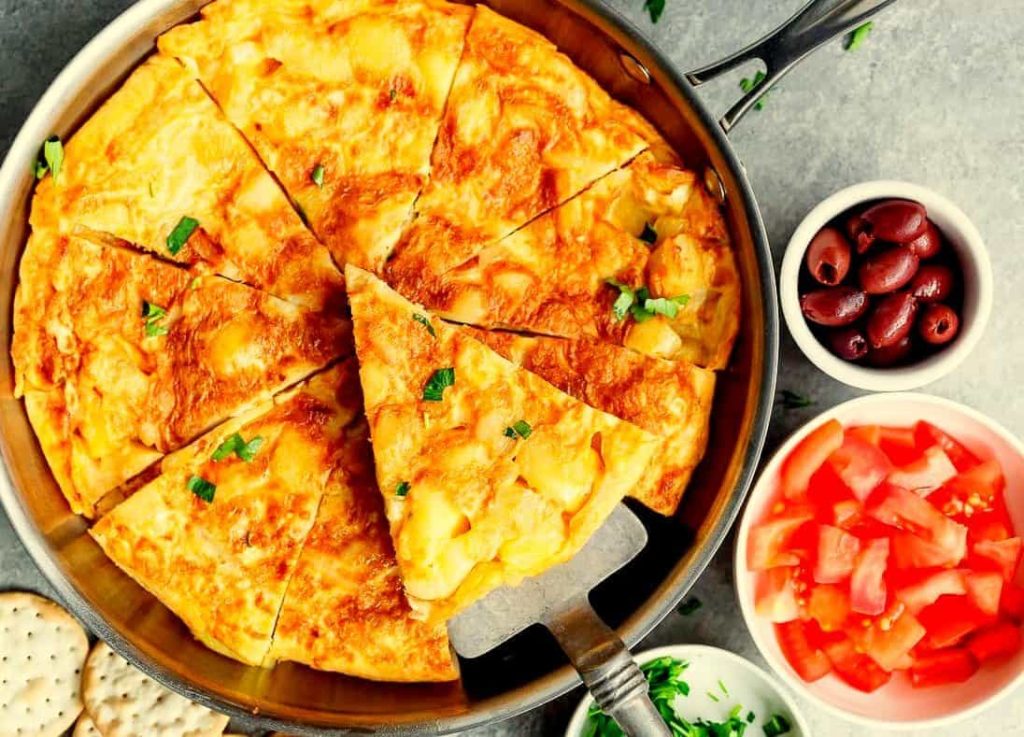 If you're a fan of the classic omelet, then you'll definitely love this one! This Spanish quail egg tortilla with pan-fried potatoes and onion will be a feast for your senses. This nutritious tortilla recipe will likely become one of your favorite breakfast or dinner choices, excellent for vegetarians and easy to make!
The ingredients are cheap and can be found in almost any grocery store. What's best is that they are healthy, and you don't have to worry about excess calories, especially if you're going to have this quail egg tortilla for breakfast or brunch.
How to Make this Spanish Quail Egg Tortilla
I've said it before, and I'll say it again, I love Spain with all my heart! This is a reinterpretation of the classic tortilla recipe because I prefer to use quail eggs, just like I did for this frittata.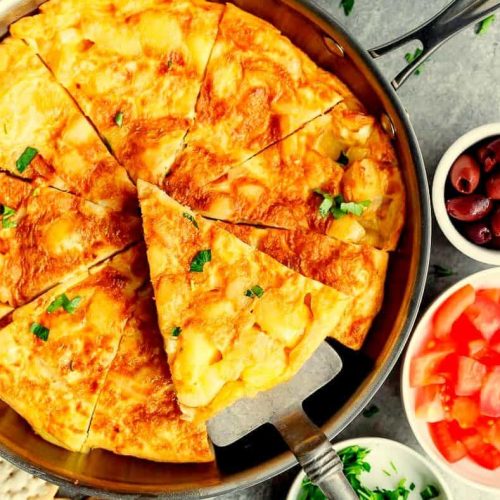 Spanish Quail Egg Tortilla
A traditional Spanish dish that combines simple ingredients, such as quail eggs, potatoes, and onion into a delicious meal.
Ingredients
32

Quail Eggs

1

Onion

4

tbsp

Olive Oil

1

lb

Potatoes

Salt

Pepper

Fresh Parsley

Chopped
Instructions
Take a large non-stick frying pan and place it on low heat. Slice the onion cook it for about 15 minutes in olive oil until it turns a really soft brown. Now add the finely sliced potatoes and cover the pan. Let it cook for about 20 minutes. Stir occasionally in order to ensure they fry evenly.

By the time the potatoes become soft and the onion shiny, take 4 garlic cloves and crush them. Throw them in the pan, stir and then add all the 32 beaten quail eggs.

Next, cover the pan with the lid again and let the Spanish quail egg tortilla cook gently. About 20 minutes later, the edges and base should be golden, and the top set, yet still a little wobbly. Now it's time to turn it over.

In order to do it properly, put another plate on top of the pan. Then, turn over the whole thing and slide the tortilla back into the pan, top side down.

Continue cooking for another 5-10 minutes. After the quail egg tortilla is ready, transfer it to a plate and serve it either warm or cold. Don't forget to add some chopped parsley or chives on top.
Nutrition
Calories:
340.31
kcal
Carbohydrates:
23.66
g
Protein:
12.18
g
Fat:
22.13
g
Saturated Fat:
4.54
g
Cholesterol:
607.68
mg
Sodium:
110.21
mg
Potassium:
624.63
mg
Fiber:
3.03
g
Sugar:
2.37
g
Vitamin A:
390.96
IU
Vitamin C:
25.31
mg
Calcium:
71.44
mg
Iron:
3.7
mg
You can also add some heavy cream to the beaten quail eggs for a creamier texture.
If you really want to take things to a whole new level, take some slices of a warmed baguette and rub some of the remaining garlic on it. Next, pile on grated tomatoes and season them to your liking with sea salt and a little olive oil. This will go really well with the Spanish quail egg tortilla.