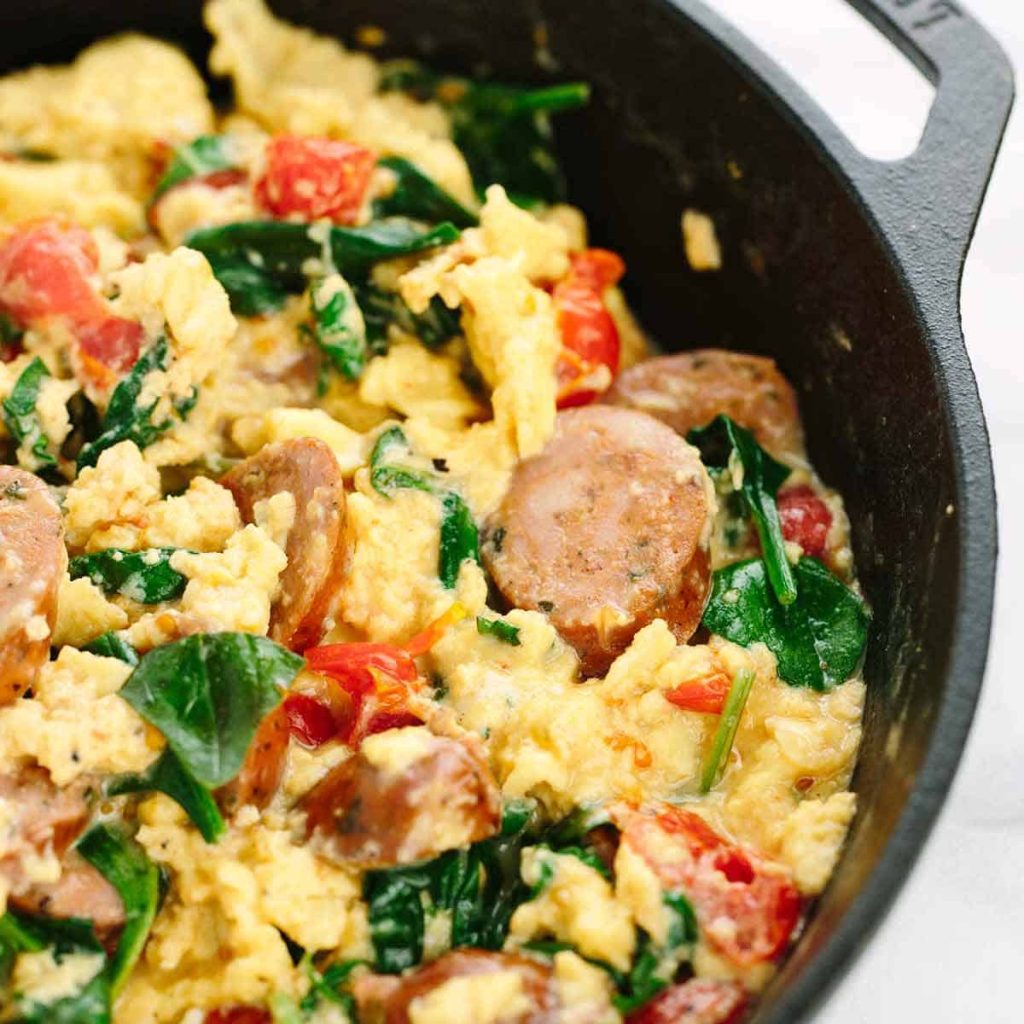 Since I want everyone's mornings to be great and full of energy, I thought of this amazing breakfast recipe that's also good for those on a diet: keto scrambled quail eggs with sausage. If it sounds a lot, that's because it is. Luckily, this nice, filling veggie scramble is easy to make, and the result is absolutely delicious!
What I love about this keto recipe with quail eggs, besides its taste, is its nutritional profile. It is literally packed with protein and healthy fats. This makes it an ideal breakfast recipe if you're an active person. Of course, its benefits don't stop at protein. This delicious meal is also full of fiber, antioxidants, and, of course, low-carb!
This means you'll also get enough energy to start the day while taking care of your digestive system, thanks to the high fiber content. As you can probably tell by now, this veggie scramble with sausage will start your engines and prepare you for the day!
Before you get too excited about this keto breakfast recipe with quail eggs, it's time for a disclaimer. While delicious, it takes about 30 minutes to make. So you'll know it's a special recipe that requires time and a big appetite. I recommend you make it during the weekend when you won't need to rush out to work. This will allow you to cook it in peace and really enjoy it as well.
How To Make Keto Veggie Scramble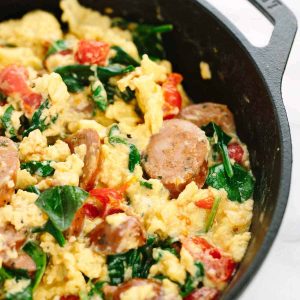 Keto Veggie Scramble With Sausage
This breakfast recipe is best for those weekend mornings with friends.
Ingredients
30

Quail Eggs

1

lb

Sausage

1

tbsp

Olive Oil

1

Red Pepper

1

Green Pepper

2

Zucchini

3.5

oz

Spinach

Fresh or Frozen

1

Garlic Clove

Salt

Pepper

Some Basil Leaves

Optional

Some Parsley Leaves

Optional
Instructions
Start by preparing your veggies. Wash them and proceed to chop them all. Put the zucchini in a separate bowl and don't season with salt as they will leave a lot of water.

Now, take a large saucepan and heat about 1-2 tablespoons of olive oil. Then, add the minced garlic, and give it a quick stir. Next, add in the spinach and peppers. Hold the zucchini for a little while longer.

Saute for approximately 5 minutes over medium heat. Then, add the zucchini and season the veggie mix with spices. Add some basil and parsley, if you like. Lower the heat and keep sauteing for an additional 3-5 minutes, making sure not to cook the veggie scramble all the way.

As soon as they are partly done, remove the pan from heat and set aside. Now, it's time to take the pork sausage and cut it into chunks. Add the meat on top of the vegetables, cover the pan with a lid, and continue cooking. Reduce the heat and allow it to cook for 10 minutes.

Now, it is time to crack the quail eggs in a bowl and whisk them a little. Don't do it as you would for an omelet, you want that scrambled eggs look where the white is still visible. Season with a little salt and pepper before pouring on top of the sausage chunks.

Put the pan back on the heat and mix everything until the eggs have set and everything is nicely bound together. By now it should smell absolutely delicious.
Nutrition
Calories:
520.98
kcal
Carbohydrates:
7.65
g
Protein:
28.41
g
Fat:
41.63
g
Saturated Fat:
12.98
g
Polyunsaturated Fat:
5.46
g
Monounsaturated Fat:
18.88
g
Trans Fat:
0.24
g
Cholesterol:
651.35
mg
Sodium:
846.11
mg
Potassium:
882.4
mg
Fiber:
2.67
g
Sugar:
4.8
g
Vitamin A:
4015.22
IU
Vitamin C:
87.45
mg
Calcium:
100.09
mg
Iron:
5.02
mg
So there you have it! My diet-friendly, keto scrambled quail eggs with sausage and veggies. While it's a fairly simple recipe, it does require a little bit of time. Best reserved for a fancy weekend breakfast or brunch, this delicious meal will leave you satiated and ready for the day!
If you don't tolerate hot and spicy sausages, I recommend you swap them for the non-spicy versions. Let me know if you liked this simple veggie scramble with sausage, and don't forget to share it with your friends!