Scrambled eggs are a delicious and fluffy breakfast meal that most people love! They are easy to make, they taste good, and are healthy and hearty. So, I thought I'd try something new for those mornings when there just isn't enough for cooking breakfast. And I came up with this microwave scrambled quail eggs recipe. Yes, you read that right!
It's not just pudding you can cook in a microwave-friendly mug! And after all, who wouldn't want to make a recipe even more straightforward than it already is? Truth be told, these scrambled quail eggs are ready to eat in 2 minutes, with less mess, less stress, and the same flavor you're used to from cooking on the stovetop.
Whether you're a fan of microwaved food or not, you must admit that this recipe will simplify your life. Why? Because you won't have to swap a warm, fresh and healthy breakfast, packed with protein and nutrients for some sugar-filled pastry due to lack of time. Try it out for yourself! You will love it!
How To Make Microwave Scrambled Quail Eggs
The only thing you have to do is mix the eggs with a fork after 1 minute of microwaving. Let's see how this recipe is made.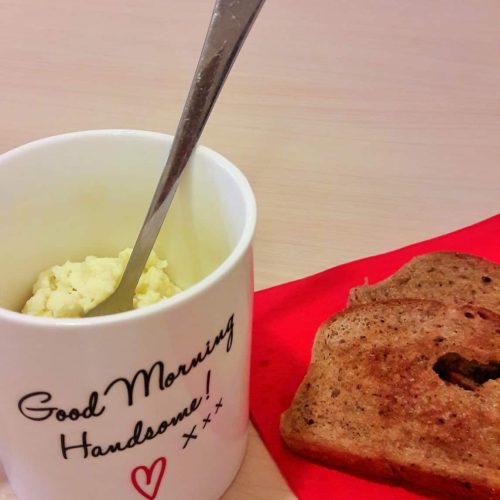 Microwave Scrambled Quail Eggs
A few ingredients make for a tasty breakfast that's ready in 2 minutes.
Ingredients
8

quail eggs

1

oz

Emmentaler cheese

grated

1

tsp

Greek Yogurt

full fat

A Litter Butter

Salt

Orange Pepper

1

Slice Toast
Instructions
Take a coffee mug and spray it with cooking spray. If you don't have or like cooking spray, then grease the inner walls of the mug with butter.

Add the 8 quail eggs and cream and stir with a fork a little. Don't overdo it, or you might lose the actual scramble texture. Be careful not to use too much yogurt, as your scrambled quail eggs might end up watery on the bottom.

Next, microwave the egg mixture on medium for 20 seconds. Remove from the microwave oven and stir. Add the salt and orange pepper now and stir again. Microwave again for 20-30 seconds until the quail eggs are cooked through. Repeat if necessary.

When the scrambled eggs are done, sprinkle the Emmental cheese on top and mix everything with a fork. Serve warm with a slice of toast.
Nutrition
Calories:
288.86
kcal
Carbohydrates:
13.98
g
Protein:
19.51
g
Fat:
16.76
g
Saturated Fat:
7.74
g
Cholesterol:
634.23
mg
Sodium:
287.96
mg
Potassium:
95.04
mg
Fiber:
0.55
g
Sugar:
1.86
g
Vitamin A:
626.27
IU
Calcium:
296.51
mg
Iron:
3.36
mg
You can use sour cream to make your scrambled quail eggs if you want to. I just chose to use Greek yogurt because it's a lighter alternative to cream. However, if you decide to use sour cream for the eggs, make sure it is full-fat or you might end up with a watery texture to your scramble. The taste will be just as fine though.
If you like spicy food, you can add a little bit of chile salsa on top after the eggs are cooked. This will give your microwave scrambled quail eggs a nice, spicy taste!