Start your day on a delicious note with the timeless breakfast favorite: scrambled eggs. This simple yet versatile dish offers a creamy, fluffy texture and endless possibilities for customization. Whether you prefer them plain or jazzed up with your favorite toppings, our recipe will guide you through creating scrambled eggs that are irresistibly light and flavorful.
Tips to Make Perfect Scrambled Eggs:
Use fresh eggs for the best flavor and texture.
Season the eggs before cooking to ensure even flavor throughout.
Low and slow is the key. Cooking over medium-low heat prevents overcooking and results in creamy eggs.
Avoid overmixing the eggs in the bowl; a gentle mix is enough.
The spatula should be your best friend. Gently folding and pushing the eggs is essential for creating soft curds.
Remove the eggs from the heat just before they're fully set, as they'll continue cooking off the heat.
Customize your scrambled eggs with various toppings like cheese, herbs, vegetables, or meats.
How To Make Scrambled Eggs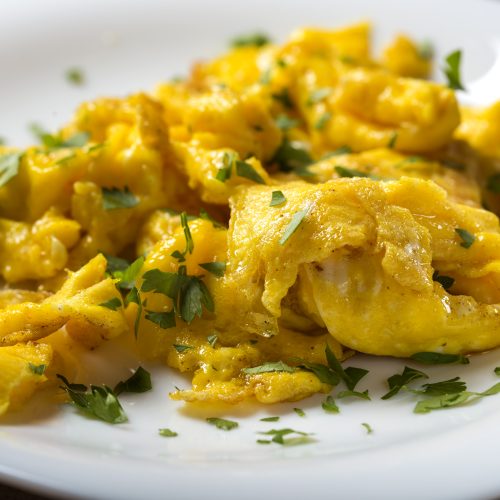 Perfectly Fluffy Scrambled Eggs: A Breakfast Classic
Start your day on a delicious note with the timeless breakfast favorite
Ingredients
4

eggs

Salt and pepper, to taste

2

butter or cooking oil

Optional toppings: grated cheese, chopped herbs, diced vegetables, cooked bacon, or smoked salmon
Instructions
Crack the eggs into a bowl. Season with a pinch of salt and a dash of pepper. Use a fork or whisk to gently beat the eggs until the yolks and whites are fully combined. Avoid overmixing.

In a non-stick skillet, melt the butter over medium-low heat. You can also use cooking oil if preferred.

Once the butter is melted and begins to sizzle slightly, pour the beaten eggs into the skillet.

Let the eggs sit undisturbed for a few seconds to begin setting at the bottom.

Using a spatula, gently push the eggs from the edges toward the center of the skillet. Allow the uncooked egg to flow to the edges.

Continue gently pushing and folding the eggs until they form soft curds. The goal is to create light, fluffy, and creamy curds.

Remove the skillet from the heat just before the eggs are fully cooked, as they will continue to cook from the residual heat.

Add any optional toppings, such as grated cheese or herbs, to the eggs and gently fold them in.

Season the scrambled eggs with additional salt and pepper if needed.

Serve the scrambled eggs immediately while they're still soft and creamy.
Nutrition
Serving:
2
g
Calories:
150
kcal
Carbohydrates:
1
g
Protein:
9
g
Fat:
12
g
Saturated Fat:
5
g
Cholesterol:
350
mg
Sodium:
250
mg
Elevate your breakfast game with the art of making perfectly fluffy scrambled eggs. Mastering this simple technique opens the door to a variety of delicious morning creations. From classic simplicity to gourmet twists, scrambled eggs offer endless possibilities to delight your taste buds. Enjoy this timeless breakfast favorite any day of the week!