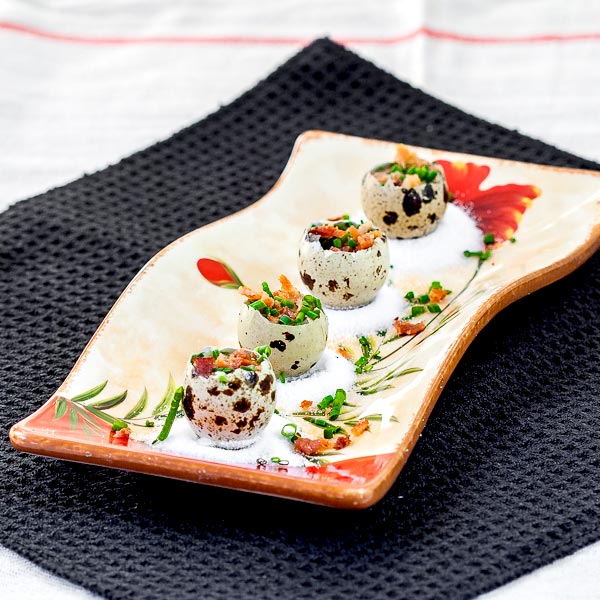 As a society, we've become increasingly interested in healthy eating. Luckily, these quail egg shots fall directly into this category! If you want the ultimate healthy snack, look no further than this 10-minute recipe! It's literally one of the best things you can have for breakfast or simply as an appetizer.
What I like about this particular quail egg recipe is its simplicity. If in the early 2000s we were drawn to fast food, no matter how unhealthy, today we are drawn to fast superfoods. In other words, we still want our food to be fast, but we also want it to be healthy. We're no longer just looking to fill our stomachs. We want the food to nourish us as well.
Quail egg shots are not an American dish, as you might have guessed. Initially, this recipe came from Japan, where it's very popular. They serve it in select restaurants, meaning it is generally a dish for the upper class. Nonetheless, everybody eats quail egg shots, even if they prepare them a home.
People in Japan love this quail egg recipe because of its taste, texture, and its numerous properties. In Eastern medicine, especially Chinese traditional medicine, quail eggs are not just a delicious meal but a home remedy for many health issues. In other words, they are perfect for your health, but I won't get into that right now. If you want to read about the health benefits of quail eggs there's a lot of information out there.
Here at QuailEgg.Recipes I'm interested in providing my readers with high-quality recipes and I really like those you can make fast. After all, we rarely have time to really enjoy cooking. I adapted the original recipe to make it more accessible to anyone regardless of their cooking experience.
Without further ado, let me show you a recipe that you will fall in love with: quail egg shots!
DISCLAIMER! This recipe can be changed as you want. You can change some of the ingredients to your liking. Feel free to use onions instead of chives if you want a more spicy flavor. You can even opt for pepper or jalapeno if you like hot food. The great thing about this quail egg shots recipe is that it's versatile!
How To Make Delicious Quail Egg Shots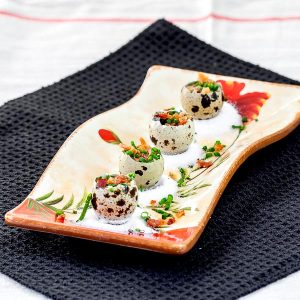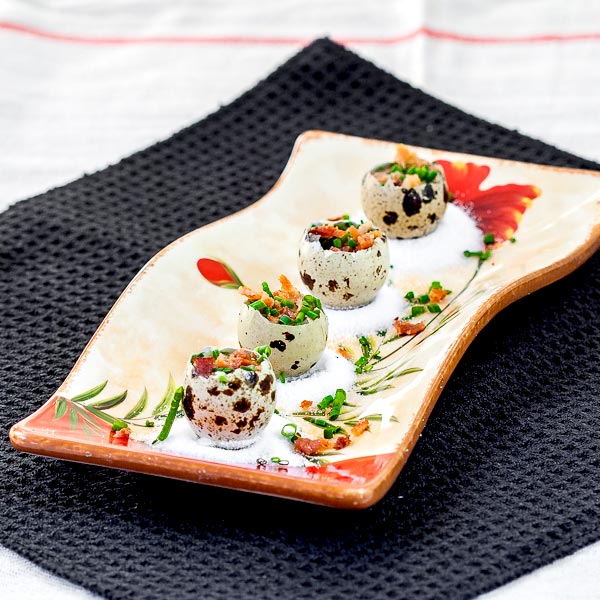 Japanese-Inspired Quail Egg Shots Recipe
This quail egg shots recipe isn't just for breakfast or brunch. You can also serve it as a light dinner or as an evening snack.
Ingredients
4

Quail Eggs

1

tbsp

Bacon cubes

fried

1

tsp

chives

or spring onions or simply, chopped onion

Salt
Instructions
Take a small saucepan and fill it with water. Turn on the heat and bring it to a boil. As soon as the water starts boiling, prepare to soft boil your quail eggs (very soft; they'll be runny). Soft boiling quail eggs is different from boiling chicken eggs. Since these ones are considerably smaller, they will require less time.

I recommend you give the water a brisk swirl. As soon as you created a whirlpool, drop the quail eggs and leave them in for 1 minute. Then, remove them and place them under a stream of cold water for a couple of seconds. This will stop the cooking process and the eggs will remain soft and runny, which is exactly what we want for this recipe.

Next, peel the eggs. This step is rather difficult because it may require a little training beforehand. But you'll get the hang of it once you've boiled quail eggs a couple of times. Make sure you are gentle, so as not to take the white along with the shell. Only peel half of the egg.

After you're done peeling the eggs, put them on a dot of cold butter. This will ensure that they stay in a vertical position. Take one tablespoon of fried and finely chopped bacon, and sprinkle it over the eggs. Do the same with the chives or fresh onion. Don't forget to salt to taste. Serve immediately!
Nutrition
Calories:
45.25
kcal
Carbohydrates:
1.09
g
Protein:
3.49
g
Fat:
2.91
g
Saturated Fat:
0.78
g
Polyunsaturated Fat:
0.71
g
Monounsaturated Fat:
1
g
Cholesterol:
151.92
mg
Sodium:
87.34
mg
Potassium:
30.32
mg
Fiber:
0.37
g
Sugar:
0.08
g
Vitamin A:
119.51
IU
Vitamin C:
0.35
mg
Calcium:
15.52
mg
Iron:
0.69
mg
Of course, this recipe isn't the only thing that works wonderfully as an elaborate snack. Take, for example, some of my deviled eggs recipes. People love deviled eggs. They're small, delicious, and satiating!
What's great about this rather exotic recipe is that you can serve it with any occasion. For example, if you have a date or a birthday where you have a couple of guests coming over, this recipe is something that will leave a great impression! People will be pleasantly surprised at how complex it looks and impressed by its taste! You simply can't go wrong with it!
If you liked this recipe don't forget to share it with your friends. Also, don't forget to drop a comment letting me know how your quail egg shots turned out!