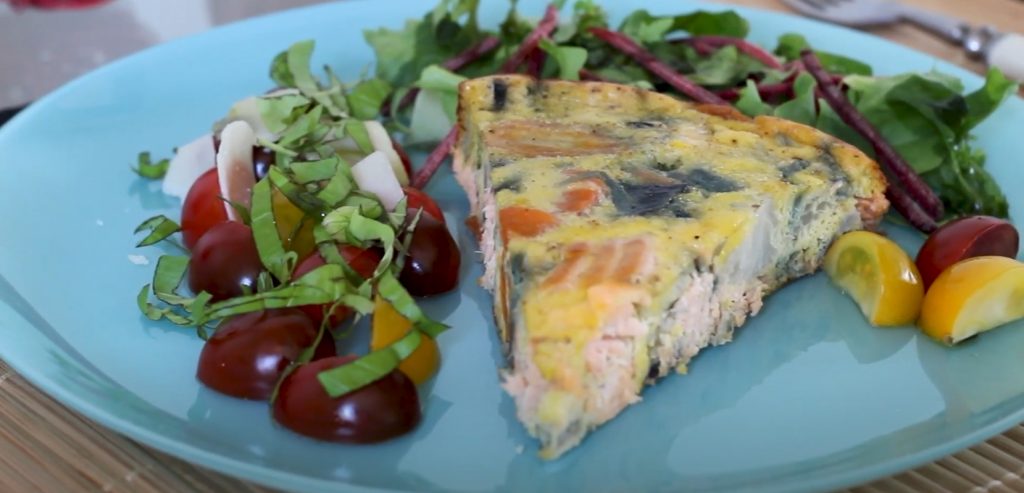 Like many other recipes on this site, this one is delicious, healthy, and easy to make! If you're looking for a delightful lunch or dinner recipe, look no further than this salmon frittata with quail eggs. It is absolutely divine! It's pretty much the ideal dish for anyone who wants to cook something quick and healthy.
Quail eggs are a superfood and have a flavor that I love. However, adding veggies, salmon, and greek yogurt takes the whole thing to a new level! Granted, some of you may be worried about mixing eggs with salmon. Truth be told, you have nothing to worry about. These two main ingredients go together very well.
What's particularly charming about this salmon frittata with quail eggs recipe is how filling it can be. Salmon, whether baked, poached, fried, or smoked, is a powerful source of high-quality protein and omega 3 fatty acids – great additions to every diet! Naturally, you don't have to stay entirely faithful to this recipe. If you're missing some ingredients, feel free to swap them with whatever you have at home!
How To Make Salmon Frittata with Quail Eggs
Frittatas are easy and uncomplicated dishes – nothing more than a few delicious ingredients mixed together! Therefore, making this salmon frittata will leave you satiated and help clean out your fridge since you can add whatever you want in the pan!
Salmon Frittata With Quail Eggs
This a delicious salmon and quail egg frittata recipe that anyone can make. The broccoli adds some extra fiber and vitamins that make it even more nutritious.
Ingredients
40

Quail Eggs

2

tbsp

olive oil

extra virgin

200

g

Salmon Fillets

fresh or cooked leftovers

200

g

broccoli

2

spring onions

20

cherry tomatoes

100

g

Greek Yogurt

or any creamy, high protein yogurt

Salt

Pepper
Instructions
Start off by preheating your oven. In order to waste no time, rinse your vegetables thoroughly, and chop them. Cut the cherry tomatoes into halves and chop the spring onions.

Next, take a saute pan large enough for your ingredients and pour some extra virgin olive oil in it. This way you can be sure that the veggies won't stick to the pan. Heat up the oil over medium heat. When it gets hot enough add the tomatoes and scallions and saute them for approximately 2-3 minutes until they turn barely soft.

While the vegetables are cooking, whisk the quail eggs in a bowl. Add the high-protein or Greek yogurt, salt, and pepper. Whisk until smooth.

Then, cut or tear the salmon fillets into small pieces and place them on in the baking dish. Lay the broccoli on top of the fish and season with a little salt and pepper. Now, pour the egg mixture on top and bake for 30 minutes on medium.

In order to check if the salmon frittata with quail eggs is set, use a toothpick. Insert it right in the middle and if it comes out clean, you can take the dish out of the oven. If it's not clean, bake the frittata for another 10 minutes. Be sure to keep an eye on it. You don't want to burn it.

Remove the salmon frittata with quail eggs from the oven and let it rest for a couple of minutes before serving. You can also reheat it for leftovers.
Nutrition
Calories:
325.05
kcal
Carbohydrates:
8.44
g
Protein:
24.54
g
Fat:
20.54
g
Saturated Fat:
4.73
g
Trans Fat:
0.01
g
Cholesterol:
788.35
mg
Sodium:
184.85
mg
Potassium:
758.98
mg
Fiber:
2.05
g
Sugar:
4.28
g
Vitamin A:
1296.67
IU
Vitamin C:
65.11
mg
Calcium:
128.34
mg
Iron:
4.77
mg
Of course, if you'd prefer your frittata to be more golden-brown, then turn the broiler on for a couple of minutes.
I hope this delicious lunch/dinner recipe will fill you with protein, fiber, vitamins, and antioxidants and lift your spirits. Good food has the power to make us happy, and salmon has been proven time and again to be one of the best foods for happiness. Healthy food such as this recipe can really shine a light on our lives! Enjoy!