Scotch Eggs are a popular and delicious British snack, perfect for picnics, parties, or as a satisfying on-the-go treat. This classic dish features a hard-boiled egg wrapped in sausage meat, coated in breadcrumbs, and then deep-fried or baked until golden and crispy. Let's get started and bring a taste of Britain into your kitchen!
How To Make Scotch Eggs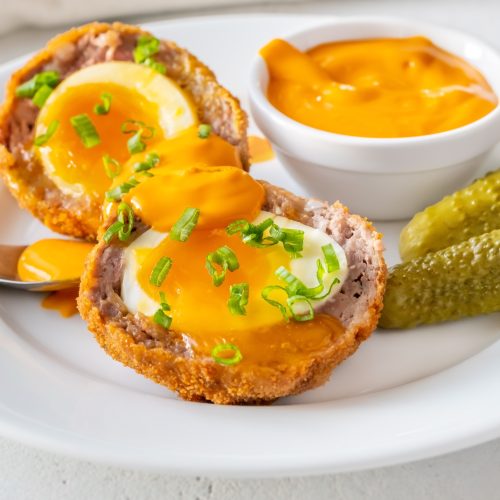 Scotch Eggs: A Tasty British Snack with a Crunchy Exterior
Scotch Eggs are a popular and delicious British snack, perfect for picnics, parties, or as a satisfying on-the-go treat.
Ingredients
6

hard-boiled eggs, peeled

1

lb (450g) sausage meat

1/2

tsp

salt

1/4

tsp

black pepper

1/2

tsp

dried thyme (optional)

1/2

cup

all-purpose flour

2

large eggs, beaten

1 1/2

cup

breadcrumbs

Vegetable oil, for frying
Instructions
In a mixing bowl, combine the sausage meat, salt, black pepper, and dried thyme (if using). Mix until well combined.

Divide the sausage meat into six equal portions.

Roll out each portion of sausage meat between two sheets of plastic wrap or wax paper until about 1/4-inch (0.5 cm) thick.

Place a hard-boiled egg in the center of each flattened sausage meat portion and carefully wrap it around the egg, sealing the edges well.

Prepare a breading station with three shallow dishes: one with flour, one with beaten eggs, and one with breadcrumbs.

Roll each sausage-wrapped egg first in the flour, then dip in the beaten eggs, and finally roll in the breadcrumbs, ensuring an even coating.

Fill a deep, heavy-bottomed pan with about 3 inches (7.5 cm) of vegetable oil and heat it to 350°F (180°C). Alternatively, you can preheat your oven to 400°F (200°C) if you prefer to bake the Scotch Eggs.

Carefully lower the Scotch Eggs into the hot oil, working in batches if necessary, and fry for about 8-10 minutes, turning occasionally, until golden and crispy. If baking, place the Scotch Eggs on a lined baking sheet and bake for 25-30 minutes, turning halfway through, until golden and cooked through.

Using a slotted spoon, remove the fried Scotch Eggs from the oil and transfer them to a paper towel-lined plate to drain any excess oil.

Allow the Scotch Eggs to cool slightly before serving. Enjoy warm or cold with your favorite dipping sauce or condiments.
Nutrition
Calories:
450
kcal
Protein:
22
g
Fat:
28
g
Saturated Fat:
9
g
Polyunsaturated Fat:
3
g
Monounsaturated Fat:
13
g
Cholesterol:
230
mg
Sodium:
930
mg
Fiber:
2
g
Sugar:
2
g
By following our easy recipe and helpful tips, you can create a batch of these tasty treats that are perfect for picnics, parties, or just to enjoy at home with your family. So why not try your hand at making Scotch Eggs and experience a bit of British culinary tradition in your very own kitchen? You won't be disappointed!