The classic French omelette is a versatile and delicious dish that is perfect for any meal, from a quick weekday breakfast to an elegant weekend brunch. With its delicate, tender texture and endless possibilities for fillings, the French omelette has captured the hearts of food lovers all around the world. In this post, we'll explore the history of the omelette, discuss some key techniques for achieving the perfect omelette, and share a fantastic recipe for you to try at home. So let's dive in!
History of the Omelette
Although omelettes can be traced back to ancient Persia and Rome, it was the French who refined and popularized the dish we know and love today. The word "omelette" comes from the Old French word "alemelle," meaning "knife blade," a reference to the dish's flat, folded shape. Over time, the French omelette has become a symbol of French cuisine, celebrated for its simplicity, elegance, and use of high-quality ingredients.
Techniques for a Perfect French Omelette
Making a classic French omelette might seem straightforward, but there are a few key techniques that can make all the difference between an ordinary omelette and an extraordinary one. Here are some essential tips to keep in mind:
Use fresh, high-quality eggs: Since eggs are the star of the show, it's important to use the best quality you can find. Look for fresh, organic, and free-range eggs whenever possible.
Whisk the eggs well: Whisking the eggs until well beaten and slightly frothy will ensure a lighter, more tender omelette.
Don't overcook: One of the defining features of a French omelette is its slightly soft, custardy center. To achieve this, cook the omelette just until the edges are set and the center is still a bit runny.
Choose your fillings wisely: While the fillings for a French omelette are limited only by your imagination, it's important to keep them simple and balanced. Classic choices include grated cheese, herbs, sautéed mushrooms, and cooked ham or bacon. Just remember not to overstuff your omelette, as this can make it difficult to fold and may cause it to break.
How to Make Classic French Omelette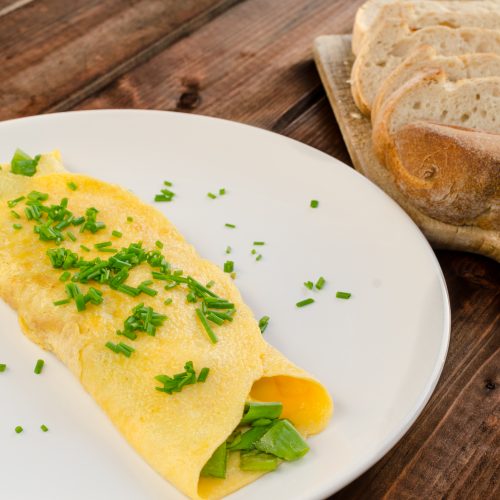 Classic French Omelette
The classic French omelette is a versatile and delicious dish that is perfect for any meal, from a quick weekday breakfast to an elegant weekend brunch.
Ingredients
3

large eggs

Salt and pepper, to taste

2

tbsp

unsalted butter

1/4

cup

grated cheese

chopped herbs, diced vegetables, cooked bacon or ham

optional
Instructions
In a medium bowl, whisk the eggs with a pinch of salt and pepper until well beaten.

Heat a non-stick skillet over medium heat, and melt the butter.

Pour the beaten eggs into the skillet and let them sit for a few seconds.

Gently stir the eggs using a spatula, and allow the uncooked egg to flow underneath the cooked portion.

When the omelette is almost set, sprinkle the cheese and optional fillings on one half.

Fold the other half of the omelette over the fillings, and cook for another 30-60 seconds.

Slide the omelette onto a plate, and serve immediately.
Nutrition
Serving:
1
g
Calories:
450
kcal
Carbohydrates:
3
g
Protein:
26
g
Fat:
37
g
Polyunsaturated Fat:
3
g
Monounsaturated Fat:
14
g
Sodium:
450
mg
Sugar:
1
g
The classic French omelette is a timeless and versatile dish that can be enjoyed at any time of day. By mastering a few simple techniques and using high-quality ingredients, you can create a delicious, elegant, and satisfying meal in just a matter of minutes. Give our Classic French Omelette recipe a try, and don't be afraid to get creative with your fillings – the possibilities are endless!