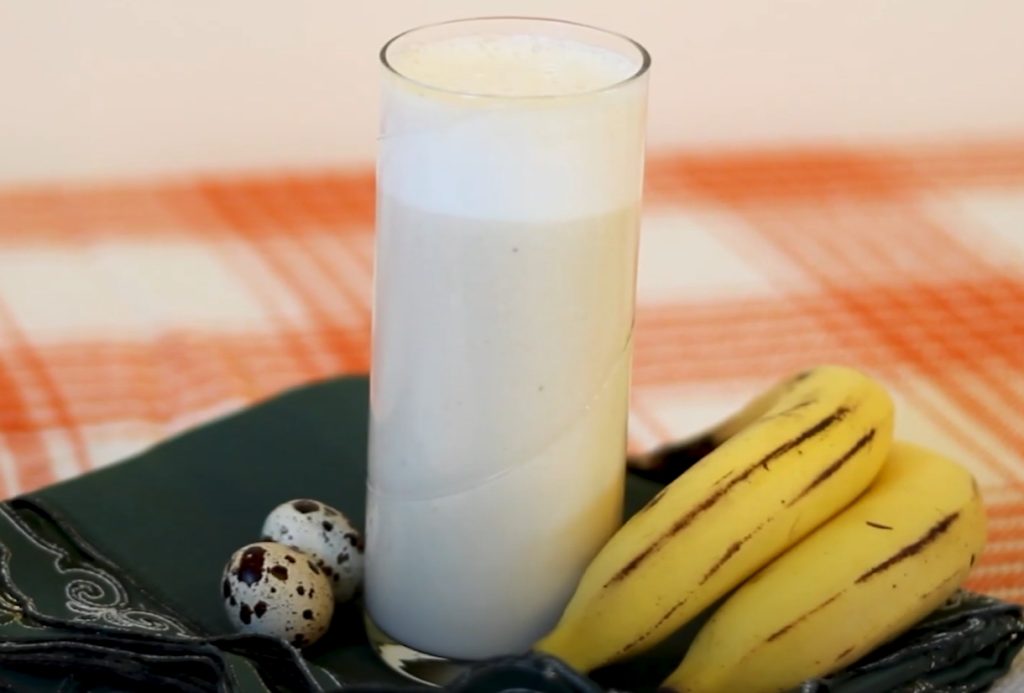 Quail Egg Smoothie: With an ingredient list this long, it's no wonder this miracle snack is called a super powered smoothie. Do you know what the best part about this delicious smoothie is? It actually lives up to its name. With a vibrant purple color and rich consistency, this breakfast smoothie is a nutritional bomb that will boost your energy levels and reactivate your will to live. This mouth-watering and incredibly healthy smoothie will make you feel like a brand new person every time you drink it!
How To Make Quail Egg Power Smoothie
Easy Super Powered Smoothie With Quail Eggs
This smoothie is delicious and packed with a lot of super healthy nutrients to keep you going the whole day.
Ingredients
1

tbsp

chia seeds

3

tbsp

water

5

quail eggs

1

Banana

2

Strawberries

1

tbsp

blueberries

fresh or frozen

1

kale leaf

100

ml

Almond Milk

100

g

Greek Yogurt

Cinammon

A little
Instructions
In order to get the perfect consistency for your power smoothie, make sure you soak your chia seeds the night before. Simply scoop one tablespoon of chia seeds and drown them into a small bowl. Then, add about three tablespoons of water over them. This will make them expand and acquire a jelly-like consistency. Store them in the fridge until the morning.

Next, combine your ingredients in the blender. Add your greek yogurt first, then the berries (strawberries, blueberries), banana, your overnight chia seeds, kale, quail eggs, almond milk and, of course, cinnamon – it's not just delicious, it also helps you burn off fat! Yay! Then, hit the power button and watch the magic happen. Drink immediately.
Nutrition
Calories:
351.48
kcal
Carbohydrates:
45.15
g
Protein:
22.54
g
Fat:
11.31
g
Saturated Fat:
2.3
g
Trans Fat:
0.03
g
Cholesterol:
384.8
mg
Sodium:
256.85
mg
Potassium:
999.66
mg
Fiber:
8.33
g
Sugar:
20.59
g
Vitamin A:
6035.51
IU
Vitamin C:
94.4
mg
Calcium:
432
mg
Iron:
3.93
mg
Extra Info For Those Of Us Who Are Nutrition-Obsessed
This super powered smoothie is an exceptional recipe for me. This is why I've decided to expand on the nutritional benefits of this miracle drink. So what exactly is it that makes this smoothie such a nutritional bomb?
For starters, let's take quail eggs. They are not only a great source of high-quality protein, but they are also delicious and healthy. Packed with vitamins and potassium, these little eggs will give your super powered smoothie a richer consistency and boost your immune system.
As far as the berries and the bananas, and the kale go, we all know how important it is to incorporate fruits and veggies in our daily diet. Fiber, vitamins, and antioxidants are the power trio they bring to the table. 
To top it off, this power smoothie is also filled with super-foods. I'm talking about chia seeds and kale, of course. The amount of phytochemicals, phosphorous, manganese and lauric acid founds in these will literally rejuvenate your entire system.
So go ahead and try this super powered smoothie recipe with fresh quail eggs. Trust me, you will love it!