Indulge in the timeless elegance of homemade custard, a velvety dessert that has graced tables for generations. With its creamy texture and delicate flavor, custard is a comforting treat that's simple to make yet immensely satisfying. In this recipe, we'll guide you through creating the perfect custard, from the essential ingredients to the crucial techniques. Prepare to savor the rich allure of this beloved classic.
Tips to Make Perfect Custard:
Use high-quality ingredients, especially fresh eggs and good-quality vanilla extract, to enhance the custard's flavor.
Be patient while tempering the eggs with the warm milk. Slow and steady pouring while whisking will prevent curdling.
Straining the custard mixture before baking ensures a silky smooth texture.
Check for doneness by gently jiggling the custard. It should be set around the edges but slightly wobbly in the center.
Avoid overbaking, as custard can quickly turn rubbery. The residual heat will continue to cook the custard as it cools.
Serve the custard chilled for the best texture and flavor.
How To Make Custard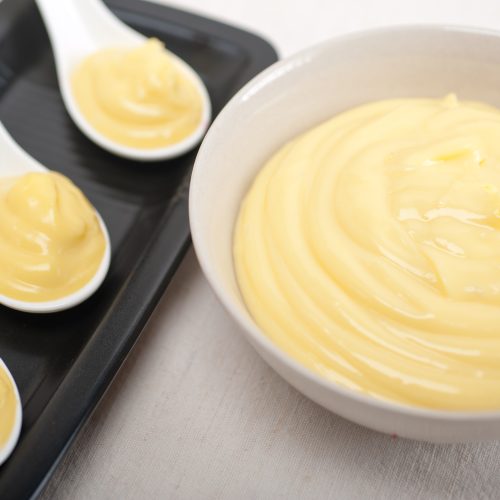 Velvety Custard: A Classic Dessert Delight
Indulge in the timeless elegance of homemade custard, a velvety dessert that has graced tables for generations.
Ingredients
2

cups

whole milk

1/2

cup

granulated sugar

4

large eggs

1

tsp

vanilla extract

Pinch of salt

Ground nutmeg or cinnamon (for garnish)
Instructions
Preheat your oven to 325°F (165°C). Place a baking dish filled with water in the oven to create a water bath for baking the custard.

In a saucepan, heat the milk over medium heat until it's just about to boil. Remove from heat and let it cool slightly.

In a mixing bowl, whisk together the eggs, sugar, vanilla extract, and a pinch of salt until well combined and slightly frothy.

Slowly pour the warm milk into the egg mixture, whisking constantly to prevent curdling. This step is crucial for achieving a smooth custard texture.

Strain the custard mixture through a fine-mesh sieve to remove any potential bits of cooked egg.

Carefully pour the custard into individual ramekins or a larger baking dish. Place the ramekins or dish into the preheated oven within the water bath.

Bake the custard for about 40-45 minutes, or until the edges are set and the center is slightly jiggly. The custard will continue to cook and set as it cools.

Once done, carefully remove the ramekins or dish from the oven and the water bath. Allow the custard to cool to room temperature.

Refrigerate the custard for at least 2-3 hours, or until it's fully chilled and set.

When ready to serve, sprinkle a touch of ground nutmeg or cinnamon on top for added flavor and a beautiful finish.
Nutrition
Serving:
4
g
Calories:
250
kcal
Carbohydrates:
30
g
Protein:
10
g
Fat:
10
g
Saturated Fat:
4
g
Cholesterol:
190
mg
Sodium:
100
mg
Sugar:
28
g
Indulge in the luxuriously smooth delight of homemade custard. With its simple yet exquisite flavors, custard is a versatile dessert that can be enjoyed on its own or as a base for various sweet creations. Embrace the tradition of crafting custard from scratch, and savor each spoonful of this timeless masterpiece.