Start your day with a burst of flavors and a dose of protein with our delicious Western Sandwich. This classic breakfast sandwich is packed with the goodness of eggs, bell peppers, onions, and ham, all tucked between slices of buttery toast. It's the perfect way to satisfy your morning hunger and kickstart your day with a smile.
Tips for Perfect Western Sandwich:
Customize it: Feel free to add your favorite ingredients like cheese, mushrooms, or spinach to make it your own.
Don't overcook the eggs: Be careful not to overcook the scrambled eggs. They should be creamy and slightly runny when removed from the heat as they will continue to cook slightly.
Use whole-grain bread: Opt for whole-grain bread for added fiber and nutrients.
How To Make Western Sandwich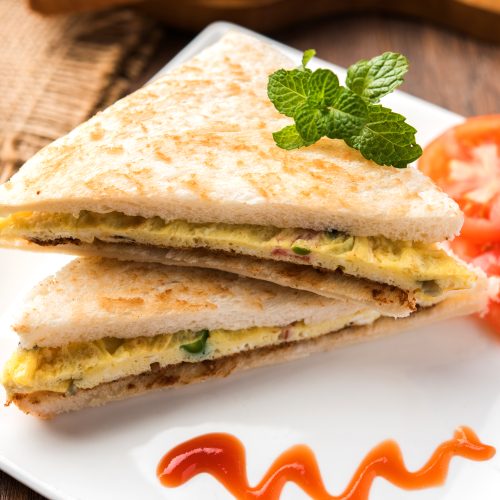 Western Sandwich Recipe – A Hearty Breakfast Delight
Start your day with a burst of flavors and a dose of protein with our delicious Western Sandwich.
Ingredients
4

large eggs

1/2

cup

diced ham

1/4

cup

diced bell peppers (red and green)

1/4

cup

diced onions

Salt and black pepper to taste

4

slices of whole-grain bread

2

tbsp

butter
Instructions
Scramble the Eggs:

a. In a bowl, crack the eggs and whisk them until well beaten.

b. Heat a non-stick skillet over medium heat and melt 1 tablespoon of butter.

c. Add the diced ham, bell peppers, and onions to the skillet. Sauté for about 3-4 minutes until the vegetables soften.

d. Pour the beaten eggs into the skillet with the veggies. Season with salt and black pepper.

e. Gently scramble the eggs, stirring occasionally, until they are just set but still slightly moist. Remove from heat.

Toast the Bread:

a. While the eggs are cooking, toast the slices of whole-grain bread until they are golden brown.

b. Spread the remaining butter on one side of each slice of toast.

Assemble the Sandwiches:

a. Divide the scrambled eggs mixture evenly among two slices of toast (buttered side up).

b. Place the remaining slices of toast on top to create sandwiches.

Serve:

a. Slice each sandwich in half diagonally for easier handling.

b. Serve hot with ketchup or hot sauce if desired.
Nutrition
Serving:
1
g
Calories:
350
kcal
Carbohydrates:
25
g
Protein:
16
g
Fat:
20
g
Saturated Fat:
8
g
Cholesterol:
280
mg
Sodium:
850
mg
Potassium:
300
mg
Fiber:
4
g
Sugar:
5
g
Enjoy your hearty Western Sandwich as a satisfying breakfast or brunch option. It's quick, easy to make, and bursting with flavors!