Carbonara is a classic Italian pasta dish known for its creamy sauce and rich flavors. Made with simple ingredients like eggs, cheese, pancetta or bacon, and black pepper, Carbonara is a comfort food favorite. In this recipe, we'll show you how to create a delicious and authentic Carbonara that will transport your taste buds to Italy. Get ready to indulge in this pasta delight that's perfect for a cozy dinner or special occasion.
Tips to Make Perfect Carbonara:
Use high-quality ingredients, such as authentic Italian cheeses like Pecorino Romano and Parmesan, for the best flavor.
Make sure to cook the pasta until al dente, as it will continue to cook in the sauce later.
Reserve some of the pasta cooking water to add to the sauce if it becomes too thick.
Toss the pasta quickly with the sauce to prevent the eggs from scrambling.
Adjust the amount of black pepper according to your preference for a bold or subtle peppery flavor.
Serve the Carbonara immediately to enjoy it at its creamiest and best.
How To Make Carbonara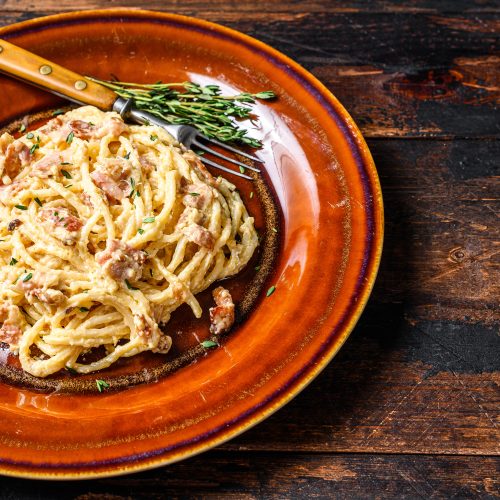 Classic Carbonara Recipe – Creamy and Flavorful Pasta Delight
Carbonara is a classic Italian pasta dish known for its creamy sauce and rich flavors.
Ingredients
8

ounces

(225 grams)spaghetti or fettuccine

4

ounces

(115 grams) pancetta or bacon, diced

3

large eggs

1

cup

grated Pecorino Romano cheese

1/2

cup

grated Parmesan cheese

2

cloves garlic, minced

Freshly ground black pepper

Salt, to taste

Chopped fresh parsley, for garnish (optional)
Instructions
Cook the pasta: Bring a large pot of salted water to a boil. Add the spaghetti or fettuccine and cook according to package instructions until al dente. Drain the pasta, reserving about 1/2 cup of the cooking water.

Prepare the sauce: In a mixing bowl, whisk together the eggs, Pecorino Romano cheese, Parmesan cheese, minced garlic, and a generous amount of freshly ground black pepper. Set aside.

Cook the pancetta: In a large skillet or frying pan, cook the diced pancetta over medium heat until crispy and browned. Remove the pancetta from the pan and set it aside on a paper towel-lined plate to drain excess grease.

Combine the ingredients: Return the cooked pasta to the pot or a large mixing bowl. While the pasta is still hot, pour the egg and cheese mixture over the pasta, along with the cooked pancetta. Toss quickly and thoroughly to coat the pasta evenly. The heat from the pasta will cook the eggs and create a creamy sauce. If the sauce seems too thick, gradually add a bit of the reserved pasta cooking water to loosen it up.

Season and serve: Taste the Carbonara and season with salt, if needed. Remember that the pancetta and cheeses are already salty, so be cautious with the additional salt. Divide the Carbonara into serving plates and garnish with freshly chopped parsley, if desired. Serve immediately while it's still hot and creamy.
Nutrition
Calories:
650
kcal
Carbohydrates:
50
g
Protein:
38
g
Fat:
33
g
Sodium:
850
mg
Fiber:
2
g
Sugar:
2
g
With its velvety sauce and irresistible combination of flavors, Carbonara is a pasta dish that never disappoints. This classic recipe brings together
the richness of eggs, the saltiness of pancetta or bacon, and the nuttiness of the cheeses to create a truly satisfying meal. Whether you're a pasta lover or a fan of Italian cuisine, Carbonara is a must-try dish that will surely become a favorite.
So, gather your ingredients, follow the steps, and indulge in the creamy goodness of this classic Carbonara recipe. It's perfect for a cozy dinner at home, a dinner party with friends, or even a romantic date night. Enjoy the flavors of Italy with every bite!
Remember to savor the moment, appreciate the simplicity of the ingredients, and embrace the joy of cooking. Bon appétit!
Note: It's important to mention that this recipe contains raw eggs. If you have concerns about consuming raw eggs or if you have specific dietary restrictions, consider using pasteurized eggs or opting for a different recipe variation.
We hope you enjoy making and savoring this delicious Carbonara recipe! Let us know in the comments how it turned out for you and if you added any personal touches to make it your own. Happy cooking!