A homemade Egg Sandwich is the perfect way to start your day. This timeless breakfast classic combines the simplicity of eggs with the comforting warmth of freshly toasted bread. Whether you're rushing out the door or leisurely enjoying breakfast at home, this sandwich is a satisfying and nutritious choice. In this recipe blog, we'll show you how to make the perfect Egg Sandwich, complete with tips, detailed ingredients, instructions, nutrition information, and prep/cooking times.
Tips for the Perfect Egg Sandwich:
Use fresh, high-quality eggs for the best flavor.
Adjust the seasoning to your taste, and consider adding a pinch of your favorite herbs or spices.
Experiment with different bread types and toppings to create your ideal Egg Sandwich.
For added creaminess, you can add a slice of cheese to your sandwich while it's still warm to let it melt slightly.
How To Make Egg Sandwich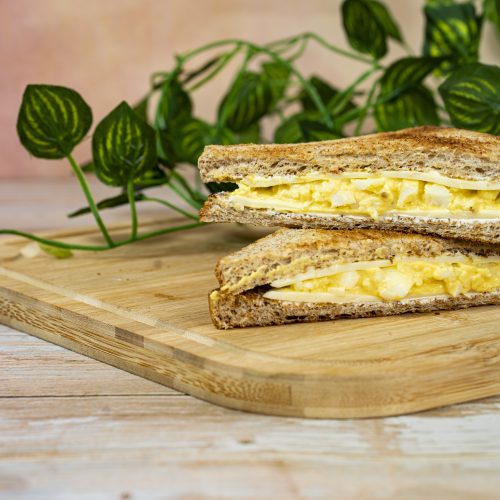 Delicious Homemade Egg Sandwich Recipe
A homemade Egg Sandwich is the perfect way to start your day.
Ingredients
2

large eggs

2

slices of your favorite bread (such as whole wheat, sourdough, or multigrain)

1

tbsp

butter or cooking oil

Salt and pepper to taste

Optional toppings: cheese, bacon, ham, avocado, tomato, lettuce, or your favorite condiments
Instructions
Prepare the Eggs

Crack the eggs into a bowl and beat them until the yolks and whites are well combined. Season with a pinch of salt and a dash of pepper according to your taste.

Scramble the Eggs

Heat a non-stick skillet over medium-low heat. Add butter or oil and let it melt and coat the pan evenly.

Pour the beaten eggs into the skillet. Allow them to cook without stirring for a moment until the edges start to set.

Gently push the eggs from the edges toward the center using a spatula. Continue to cook, occasionally pushing the eggs, until they are mostly set but still slightly runny.

Remove the skillet from the heat. The residual heat will finish cooking the eggs. They should be moist and not overcooked.

Toast the Bread

While the eggs are cooking, toast your bread until it reaches your desired level of crispiness.

Assemble the Sandwich

Lay one slice of the toasted bread on a plate. If desired, add a slice of cheese on top to melt slightly from the warmth of the eggs.

Spoon the scrambled eggs onto the bread.

Add any additional toppings you like. Common choices include bacon, ham, avocado slices, tomato, lettuce, or condiments like ketchup or mayonnaise.

Place the second slice of toasted bread on top to form a sandwich.

Serve and Enjoy

Slice your Egg Sandwich in half diagonally, creating two appealing triangles.

Serve immediately and enjoy your delicious homemade Egg Sandwich!
Nutrition
Serving:
1
g
Calories:
350
kcal
Carbohydrates:
25
g
Protein:
15
g
Fat:
20
g
Fiber:
4
g
Sugar:
3
g
Now you're ready to create your own mouthwatering Egg Sandwich at home. Customize it to your liking and savor the deliciousness of a homemade breakfast classic!