Elevate your breakfast experience with our Egg and Cheese Croissants. This delicious combination of fluffy scrambled eggs, melted cheese, and buttery croissants is the perfect way to start your day. Whether you're serving them for a leisurely brunch or a quick weekday breakfast, these croissants are sure to satisfy your cravings.
Tips to Make Perfect Egg and Cheese Croissants:
Use freshly baked croissants for the best flavor and texture.
Customize your croissants with your favorite toppings like avocado, bacon, or herbs.
Don't overcook the scrambled eggs; they should be soft and creamy.
Warm the croissants in the oven to enhance their flavor and texture.
Melt the cheese on the warm eggs for a gooey, delicious filling.
Serve immediately for the best taste and texture.
How To Make Egg and Cheese Croissants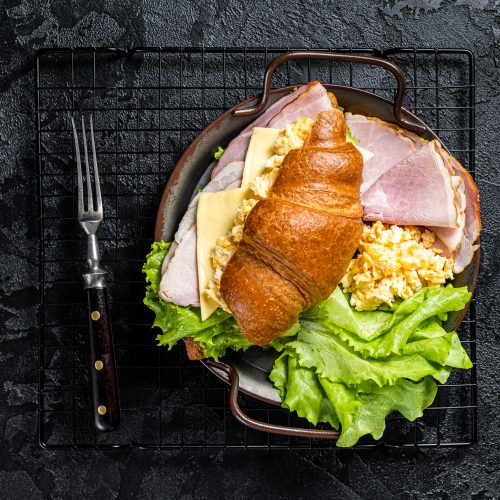 Egg and Cheese Croissants: A Breakfast Delight
Elevate your breakfast experience with our Egg and Cheese Croissants.
Ingredients
4

large croissants

4

large eggs

Salt and pepper, to taste

1/2

cup

shredded cheddar cheese

2

tbsp

butter

Optional toppings: sliced avocado, crispy bacon, or fresh herbs
Instructions
Preheat your oven to 350°F (175°C) to warm the croissants before serving.

Crack the eggs into a bowl and season with a pinch of salt and a dash of pepper. Beat the eggs until the yolks and whites are fully combined.

In a non-stick skillet, melt 1 tablespoon of butter over medium-low heat.

Pour the beaten eggs into the skillet and gently scramble them until they form soft, creamy curds. Remove from heat just before they're fully set, as they will continue to cook.

Slice the croissants in half horizontally. Place them on a baking sheet and warm them in the preheated oven for about 5 minutes, or until they're slightly crispy on the outside.

Spread the remaining butter on the inside of each croissant half.

Spoon the scrambled eggs onto the bottom half of each croissant.

Sprinkle shredded cheddar cheese over the eggs while they're still warm, allowing it to melt slightly.

If desired, add toppings like sliced avocado, crispy bacon, or fresh herbs for extra flavor and texture.

Place the top half of each croissant on the filling to create a sandwich.

Serve your Egg and Cheese Croissants warm and enjoy!
Nutrition
Serving:
4
g
Calories:
380
kcal
Carbohydrates:
25
g
Protein:
14
g
Fat:
25
g
Saturated Fat:
14
g
Cholesterol:
225
mg
Sodium:
450
mg
Fiber:
1
g
Sugar:
5
g
These Egg and Cheese Croissants are a delightful breakfast option that combines the buttery flakiness of croissants with the richness of scrambled eggs and the savory goodness of melted cheese. Customize them with your favorite toppings, and savor the indulgence of a homemade breakfast sandwich that's perfect for any morning occasion.