Start your day with a satisfying and flavorful Egg and Sausage Breakfast Sandwich. This delicious breakfast creation combines the rich taste of savory sausage, fluffy eggs, and melted cheese, all nestled between two perfectly toasted English muffins. Whether you're rushing to work or enjoying a leisurely weekend brunch, this sandwich is sure to please your taste buds and keep you energized throughout the morning.
Tips to Make the Perfect Sandwich:
Don't overcook the eggs; they should be soft and slightly creamy.
Experiment with different types of cheese for unique flavors.
Customize your sandwich with favorite toppings like sliced tomatoes, avocado, or hot sauce.
Make a batch of these sandwiches ahead of time and freeze them for a quick breakfast on busy mornings.
How To Make Egg and Sausage Breakfast Sandwich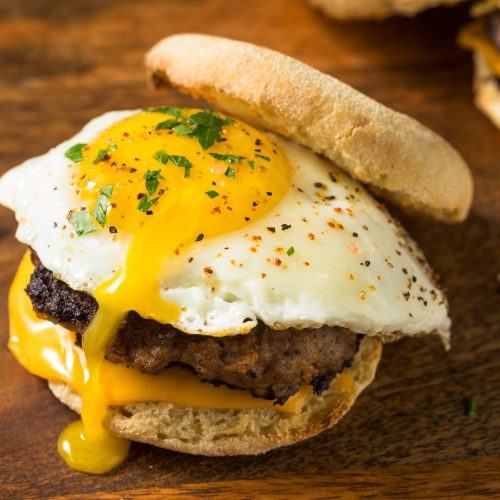 Egg and Sausage Breakfast Sandwich – A Hearty Morning Delight
Start your day with a satisfying and flavorful Egg and Sausage Breakfast Sandwich.
Ingredients
2

English muffins, split and toasted

4

large eggs

4

pork sausage patties

4

slices of American cheese

1

tbsp

butter

Salt and pepper, to taste

Optional toppings: ketchup, hot sauce, or sliced tomatoes
Instructions
Cook the Sausage Patties:

In a skillet over medium heat, cook the sausage patties until they are browned and fully cooked. This typically takes about 4-5 minutes per side. Remove from the skillet and set aside.

Scramble the Eggs:

In a bowl, whisk the eggs together with a pinch of salt and pepper.Heat a non-stick skillet over medium-low heat and add the butter. Once the butter has melted and is bubbling, pour in the beaten eggs.Gently stir the eggs with a spatula, pushing them around the skillet until they are softly scrambled and just set. This should take about 2-3 minutes. Remove from heat.

Assemble the Sandwiches:

Place a slice of American cheese on the bottom half of each toasted English muffin.Top the cheese with a cooked sausage patty.Spoon a portion of the scrambled eggs over the sausage.Add any optional toppings or condiments you desire.

Complete the Sandwiches:

Place the top half of each English muffin on the assembled ingredients to create a sandwich.

Serve and Enjoy:

Serve your Egg and Sausage Breakfast Sandwiches immediately while they're hot and gooey.
Nutrition
Serving:
1
g
Calories:
450
kcal
Carbohydrates:
23
g
Protein:
22
g
Fat:
30
g
Saturated Fat:
12
g
Cholesterol:
275
mg
Sodium:
950
mg
Fiber:
2
g
Sugar:
2
g
Enjoy your homemade Egg and Sausage Breakfast Sandwich and conquer your day with a hearty and delicious start!