Add a touch of elegance to your breakfast routine with our Eggs in Clouds recipe. This simple yet visually impressive dish features whipped egg whites topped with a golden yolk, creating a fluffy, cloud-like appearance. Not only is this breakfast delightful to the eyes, but it's also packed with flavor and nutrition.
Customizing Your Eggs in Clouds:
Add some veggies: Mix finely chopped vegetables like bell peppers, spinach, or tomatoes into the whipped egg whites for added color and nutrition.
Cheese it up: Add your favorite grated cheese, such as cheddar, Swiss, or Gruyere, to the whipped egg whites for a cheesy twist.
Spice things up: Season the egg whites with your favorite spices like paprika, cayenne pepper, or garlic powder for a flavorful kick.
Make it hearty: Top the baked egg whites with crumbled bacon or sausage for a more filling breakfast.
How To Make Eggs in Clouds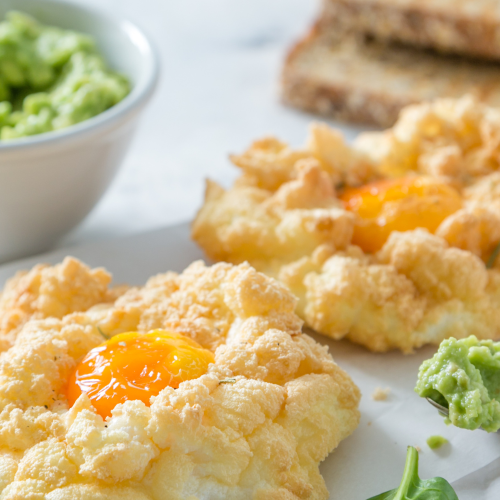 Eggs in Clouds
Add a touch of elegance to your breakfast routine with our Eggs in Clouds recipe.
Ingredients
4

large eggs, separated

1/4

cup

grated Parmesan cheese

Salt and pepper, to taste

2

strips of cooked bacon, crumbled

2

tbsp

chopped chives
Instructions
Preheat oven to 450°F (230°C). Line a baking sheet with parchment paper.In a large bowl, beat egg whites until stiff peaks form. Gently fold in the Parmesan cheese.

Spoon 4 mounds of egg whites onto the prepared baking sheet. Make a well in the center of each mound.

Bake for 3 minutes, then remove from the oven.

Carefully place an egg yolk in the well of each mound. Season with salt and pepper.

Return to the oven and bake for an additional 3-4 minutes, until the yolks are just set.

Top with crumbled bacon and chopped chives. Serve immediately.
Nutrition
Serving:
1
g
Calories:
94
kcal
Carbohydrates:
1
g
Protein:
7
g
Fat:
6
g
Saturated Fat:
2
g
Polyunsaturated Fat:
1
g
Monounsaturated Fat:
2
g
Cholesterol:
185
mg
Sodium:
159
mg
Calcium:
65
mg
Iron:
1
mg
Eggs in Clouds are a delightful and elegant breakfast option that adds a touch of sophistication to your morning meal. This delicious and nutritious dish is simple to prepare and can be easily customized to suit your taste preferences. Try our Eggs in Clouds recipe and elevate your breakfast game to new heights!