Shakshuka is a delicious and nutritious Middle Eastern dish that's perfect for breakfast or brunch. This comforting meal features eggs poached in a rich, spiced tomato sauce, which is often served with crusty bread for dipping. Not only is Shakshuka packed with flavor, but it's also a healthy and satisfying way to start your day. In this post, we'll explore the origins of Shakshuka, discuss some helpful tips for making it at home, and share a fantastic recipe for you to try, complete with nutritional information, cook time, and prep time. Let's dive into the world of Shakshuka!
Origins of Shakshuka
Shakshuka has roots in North African and Middle Eastern cuisines, with variations found in countries such as Tunisia, Morocco, Israel, and Yemen. The name "Shakshuka" is thought to come from the Arabic word "shakka," which means "to stick together" or "to mix." The dish has gained popularity worldwide, and it's easy to see why: Shakshuka is not only tasty and filling but also relatively simple to prepare, making it an ideal choice for a flavorful and satisfying breakfast or brunch.
Tips to help you make a delicious Shakshuka at home:
Use high-quality tomatoes: Since tomatoes are the base of the Shakshuka sauce, be sure to use the best quality you can find. Fresh, ripe tomatoes are ideal, but canned tomatoes can work well too, especially if they are high-quality.
Spice it up: Shakshuka relies on a mix of spices to create its signature flavor. Feel free to adjust the spices to your taste, and don't be afraid to experiment with different spice blends to create your own unique version of the dish.
Cook the eggs to your liking: Whether you prefer your eggs runny or fully cooked, you can adjust the cooking time to achieve your desired level of doneness.
Add some greens: For an extra nutritional boost, consider adding spinach, kale, or another leafy green to your Shakshuka. Simply stir in your greens of choice just before adding the eggs to the sauce
How to Make Shakshuka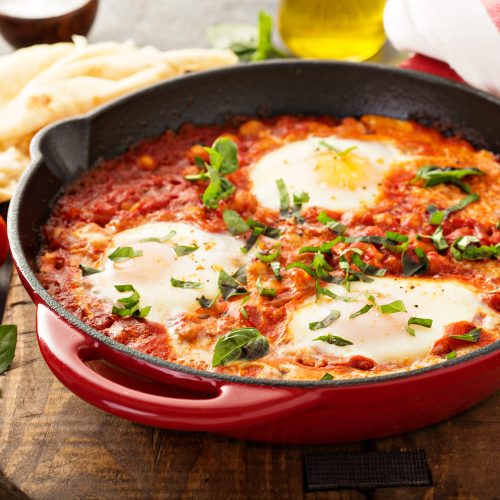 Shakshuka: A Flavorful and Nutritious Middle Eastern Breakfast Delight
Shakshuka is a delicious and nutritious Middle Eastern dish that's perfect for breakfast or brunch.
Ingredients
2

tbsp

olive oil

1

medium onion, diced

1

bell pepper, diced

3

cloves garlic, minced

1

tsp

ground cumin

1

tsp

paprika

1/4

tsp

cayenne pepper (optional)

1

(28 oz)

can crushed tomatoes

Salt and pepper, to taste

6

large eggs

Fresh cilantro or parsley, for garnish

Crusty bread or pita, for serving
Instructions
In a large skillet, heat the olive oil over medium heat. Add the onion and bell pepper, and cook until softened, about 5 minutes.

Add the garlic, cumin, paprika, and cayenne pepper (if using), and cook for another minute.

Stir in the crushed tomatoes, and season with salt and pepper. Simmer for 10-15 minutes, or until the sauce has thickened.

Make six small wells in the sauce with a spoon, and crack an egg into each well.

Cover the skillet and cook for 5-8 minutes, or until the egg whites are set and the yolks are still runny.

Garnish with fresh cilantro or parsley, and serve with crusty bread or pita for dipping.
Nutrition
Calories:
350
kcal
Carbohydrates:
22
g
Protein:
16
g
Fat:
23
g
Saturated Fat:
6
g
Polyunsaturated Fat:
3
g
Monounsaturated Fat:
12
g
Cholesterol:
330
mg
Sodium:
610
mg
Fiber:
5
g
Sugar:
11
g
Shakshuka is a delightful and nutritious Middle Eastern dish that's perfect for enjoying at breakfast or brunch. With its rich, spiced tomato sauce and perfectly poached eggs, Shakshuka is sure to become a favorite in your household. By following our tips and using our delicious recipe, you can create a restaurant-quality Shakshuka in the comfort of your own home. So why wait? Give Shakshuka a try and experience the flavors of the Middle East in every bite!